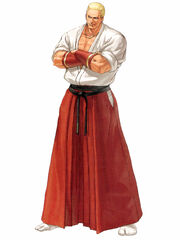 Geese Howard is a crime boss and the main villain of the Fatal Fury fighting game series. In the past he killed Terry Bogard's father Jeff Bogard, Terry battled through the king of fighters tournament and then sent him out of the top floor of Geese Tower to his death. He survived thanks to a chance for immortality in the form of the Jin scrolls. In Terry's final battle, he defeats then tries to save Geese, but the villain rejects it and dies laughing evilly as he falls.
Ad blocker interference detected!
Wikia is a free-to-use site that makes money from advertising. We have a modified experience for viewers using ad blockers

Wikia is not accessible if you've made further modifications. Remove the custom ad blocker rule(s) and the page will load as expected.