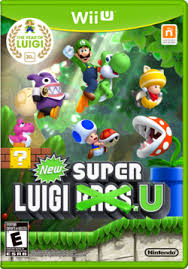 People always steal my ideas or stuff. I reserved August as Volt Month, but that coincided with the release of two fantastic games for the Year of Luigi event. I could be mad at Nintendo, but how I could I when the two games they released were a great time. I own both, and the one i'm reviewing(first at least) is New Super Luigi U. Is it a money sucking rehash or a good time on it's own? Let's find out.
Story
Peach is kidnapped by guess who, blablablabla. Nabbit just chases them and then helps? I don't get it. It's even worse then your regular Mario game. And why isn't Mario there?
6/10
Gameplay
Very fast paced. The game can be beaten in like 1 day if you wanted to speed-run. It is quite fun though especially with Nabbit and boost mode.
Alone, i'd give it a 8/10, Multiplayer, i'd give it a 10/10.
It's really just a good time and the reason you would pay for it.
Music
Mainly (and sadly) remixes.
Sucks.
Although, the music is still undeniably good.
7/10
Visuals
Similar to NSMU, but actually has a few new thing like a take on the Van Goh Starry Night level. I also LOVE the hidden Luigi, Bowser, Peach, and Toads.
9/10
Difficulty
Not with Nabbit or Multiplayer, but the single player expirience is undeniably difficult. Sometimes.
4/5
Conclusion
Pick it up. If you still have NSMBU it's only 20 dollars and n extra 10 at retail for a fantastic time.
I'm

Jr. Troopa and this game gets my....9/10.
Sorastitch is back to Corey Head reviews. No you are not hallucinating. What do I mean by that?
I blog! LINKAGE
Ad blocker interference detected!
Wikia is a free-to-use site that makes money from advertising. We have a modified experience for viewers using ad blockers

Wikia is not accessible if you've made further modifications. Remove the custom ad blocker rule(s) and the page will load as expected.