Alright stop, collaborate, and listen!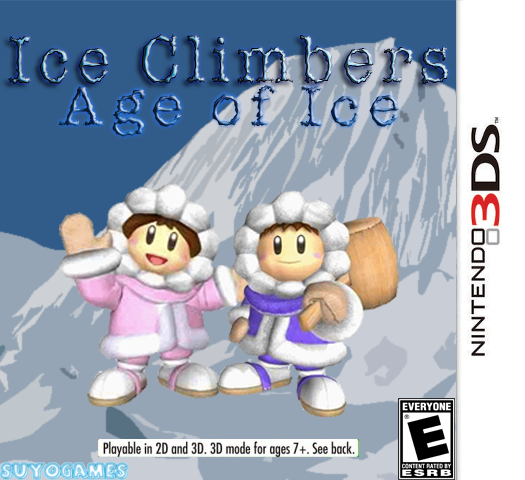 Renardy requested that I review this game on my show Gaming with Glasses, so being the kind gentleman I am, I created this review for ICAOI, the long awaited sequel to the classic game Ice Climbers.
Story
In the icey land that our heroes Popo and Nana live, they learn of a villain named Vetrice who would like to freeze the entire world. With a new friend named Mako, the two climbers set out to collect 7 snowstones to save the world. This is an interesting concept being applied to the game, but not too original. However, the last things are GOOD. The good ending is soon smashed into a rotten one and the final battle is interesting. It's a tad slow but the interesting stuff at the end make it worth reading.
8/10
Gameplay
The game seems like a puzzler with some exciting element. I am not a puzzle fan but this seems like it's a clever  and not Tetris style mania formula. I also quite enjoy the combat system with the hammers and the jobs are genius. The ranks for them add replay value and their existence makes the game feel over 9000 times deeper. The creator is also clever and reminds me of the fantastic creator in the small hit on the Nintendo E-Shop Pushmo.
10/10
Modes
Not a Boss Rush fan, but the other modes sound fun and worthwhile. They are a nice touch beyond the usual 4-player smash each others brains in modes you see in most fangames.
9.5/10
Characters
They aren't pallete swaps because of their new stats, but I would find it cool if Nana had some heart kiss move and Mako some powerful smash move to make them feel more unique. All-in-all, pretty good. However, this game adds no depth or personality to the characters like Kid Icarus Uprising did.
7.8/10
Enemies
30 enemies that are unique and covered heavily and seperated into types. A fantastic touch that makes the game a bit better.
10/10
Bosses
The mids are mainly giant sized or powerful versions of regular enemies which I don't like, but the main bosses are described well, and sound cool.
8/10
Areas
Every level is described in detail and I love it.
10/10
Conclusion
The completion bonuses are really MEH, but as a whole the game is fantastic and gets a 9/10 from me. It definitely deserves feature status and you should read it here.
I'm

Jr. Troopa and that was Gaming with Glasses, thanks for reading.
If you like this review, check out the far better reviewing system that inspired all this FGN or if you lovez me(I WUB YOU BACK) you can check out more of my shenanigans here.
Ad blocker interference detected!
Wikia is a free-to-use site that makes money from advertising. We have a modified experience for viewers using ad blockers

Wikia is not accessible if you've made further modifications. Remove the custom ad blocker rule(s) and the page will load as expected.