Gaming with Glasses,
is a TV show that replaced
The Fantendo Critic
after a terribly recieved episode. It differs from Sr.Wario's usual erratic random behavior, showing him differently. Make requests for fan-fics, real games, Fantendo games and more.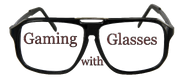 Episodes
Regular Reviews
March 21, 2013-August 29, 2013
Volt Month(August 2013)
9. Gaming with Glasses-Volt Month 1-ELECTRIC BOGGLE                                                                             10.Gaming with Glasses-Volt Month 2-Second (Review) Impact                                                                           11. Gaming with Glasses-Volt Month 3-Not the Matrix One!-Volt: Trinity
September 1, 2013-January
Preview Buzz
Battle Review
Requests
Please add yours at the bottom of the list. Do not move it up.
Edit: Looks like this not be an idiot thing is a goldmine!
COMING SOON:
Next to do:
Sonic games
Volt Month(August 2013)
LGL Month(January 2014)