For the inspiration of the Game Boy, the
FishSayMoo Gaming Company
presents the
Game Boy: Remastered
which is able to play not just Game Boy/Game Boy Color games. It releases June 23rd.
Styles
Rainbow Style
Cowboy Style
Animal Crossing Villager Style

$155
All Animal Crossing games added
Comes in boy & girl villagers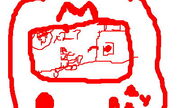 Mario Style

$120
All Mario games added.
A cat mario style is available (JP only).

Pokemon Style

$120
All Pokemon games added

Zelda Style

$120
All Zelda games added
Can come in red, green, yellow (with Triforce), purple, and blue.
Facts
You can play up to 10 games at once.
It can play 3DS, Wii, Wii U, GameCube, DS, and DSi games.
Games Only For Game Boy Remastered
| | |
| --- | --- |
| Extension:DynamicPageList (DPL), version 2.3.0 : Warning: No results. | |
Device Things
Games
StreetPass Mii Plaza
GBR Camera
GBR Sound
Activity Log
GBR Chat
Player 2 Interactive
Miiverse (NNID needed)
GameMakerR
Shops
The GBR has 2 shops.
Nintendo eShop
The Nintendo eShop is back. You need your Nintendo Network ID.
GameShop
The GameShop is the shop to get GBR games and also sell them.
Selling Games
With the help of GameMakerR, you can sell your created games to everybody.
Ad blocker interference detected!
Wikia is a free-to-use site that makes money from advertising. We have a modified experience for viewers using ad blockers

Wikia is not accessible if you've made further modifications. Remove the custom ad blocker rule(s) and the page will load as expected.