Game Boy 2 is a 64-bit Handheld console from the 
Game Boy Line.
 It's Compatible to All Game Boy, Game Boy Color, Game Boy advance and Game Boy 2 games.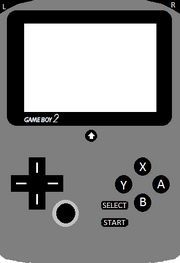 Features
Color Palettes in Original Game Boy games can Hold up to 10 colors just like Super Game Boy
Cartridge outlet can be opened and closed
Added analog stick
Y and X added (Works with Game Boy 2 Games Only)
Downloadable Games
Games For Game Boy 2
Oggy and the Cockroaches series
Oggy and the Cockroaches, The Game
Super Mario series
Super Mario DX
More Coming Soon
Other
Coming soon
Ad blocker interference detected!
Wikia is a free-to-use site that makes money from advertising. We have a modified experience for viewers using ad blockers

Wikia is not accessible if you've made further modifications. Remove the custom ad blocker rule(s) and the page will load as expected.