Ad blocker interference detected!
Wikia is a free-to-use site that makes money from advertising. We have a modified experience for viewers using ad blockers

Wikia is not accessible if you've made further modifications. Remove the custom ad blocker rule(s) and the page will load as expected.
Game Boy 2 is a 64-bit Handheld console from the 
Game Boy Line.
 It's Compatible to All Game Boy, Game Boy Color, Game Boy advance and Game Boy 2 games.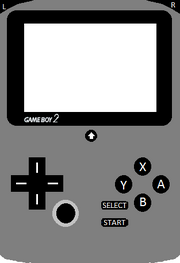 Features
Color Palettes in Original Game Boy games can Hold up to 10 colors just like Super Game Boy
Cartridge outlet can be opened and closed
Added analog stick
Y and X added (Works with Game Boy 2 Games Only)
Downloadable Games
Games For Game Boy 2
Oggy and the Cockroaches series
Oggy and the Cockroaches, The Game
Super Mario series
Super Mario DX
More Coming Soon
Other
Coming soon