Galaxy Generator is an adventure stadium in the game Mario Rugby. It is the seventh stadium in Story Mode.
Appearance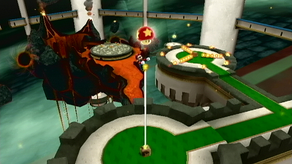 The stadium is a stone type and is based off a boss galaxy from Super Mario Galaxy named Bowser's Galaxy Generator. The course has many enemies including Draglets and Buzzy Beetles. The stadium is surronded by many stands full of Bowser's Enemies.
Role in Story Mode
Galaxy Generator is the seventh stadium in Story Mode. Bowser and Bowser Jr. are battled here.
Trivia
Draglets appear in this stadium, although they never appeared in Super Mario Galaxy.
Ad blocker interference detected!
Wikia is a free-to-use site that makes money from advertising. We have a modified experience for viewers using ad blockers

Wikia is not accessible if you've made further modifications. Remove the custom ad blocker rule(s) and the page will load as expected.