Galaxy Arena is an unlockable stage in the game Mario Rugby. It is home to Rosalina and can be unlocked by unlocking 20 Alternate Costumes.
Description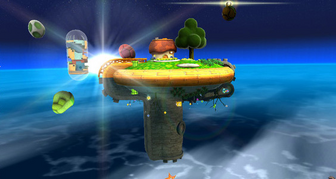 Galaxy Arena is actually Good Egg Galaxy from Super Mario Galaxy, but known as Galaxy Arena in this game. The stadium takes place all around the planet shown in the pictue. Many Goombas and Koopa Troopas act as hazards and Sling Stars are there to help players move around more easily. Lumas watch the game from beyond the stadium.
Ad blocker interference detected!
Wikia is a free-to-use site that makes money from advertising. We have a modified experience for viewers using ad blockers

Wikia is not accessible if you've made further modifications. Remove the custom ad blocker rule(s) and the page will load as expected.