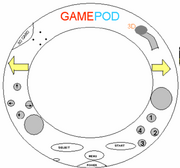 The GAMEPOD is a handheld device created by ULTIMATE GAMES Inc. It is their very first device, along with the GAMEMASTER.
Features
3D:
Changes everything to 3D mode. It works very similarly to the 3DS, as the level of 3D can be adjusted the way you like it.
Multi-Tap:
Just like the PS Vita, the GAMEPOD lets you tap one thing while tapping another.
Phone:
Using the headphones(included), you can call and send text and picture messages.
Apps:
There are downloadable apps to play in the Pod Plaza.
Facebook/Twitter
Using Wi-Fi, you can access your Facebook/Twitter account.
Camera/Video
The built in camera on the back and front of the GAMEPOD is used for creating and sharing videos and pictures. There is also an edit feature to change it any way you like!
more coming soon...
Pod Plaza
In the Pod Plaza, you can do many things. See the list below for all the cool features of the amazing Pod Plaza!
Pod People:
When you select Pod Plaza, you will be asked to create a "Pod Person." A Pod Person is your virtual avatar that you can create and customize the way you like. They aren't quite as detailed as an Xbox 360 avatar, but are a little more detailed than a Mii on the Nintendo Wii.
Pod Pals:
You can meet up with other Pod People who are in the Pod Plaza using Wi-Fi. Here, you can look at their games, stats, and add them to your "Pod Pals" list. Then you can battle with Mini-Games, chat, or just hang out.
more coming soon...
Controls
Gallery
Ad blocker interference detected!
Wikia is a free-to-use site that makes money from advertising. We have a modified experience for viewers using ad blockers

Wikia is not accessible if you've made further modifications. Remove the custom ad blocker rule(s) and the page will load as expected.