Ad blocker interference detected!
Wikia is a free-to-use site that makes money from advertising. We have a modified experience for viewers using ad blockers

Wikia is not accessible if you've made further modifications. Remove the custom ad blocker rule(s) and the page will load as expected.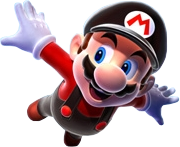 Flying Mario is one of Mario's Power-Ups that first appeared in Super Mario Galaxy. It is obtainable by using a Red Star. His hat and his overalls turn black and his buttons turn red.
Purpose
Flying Mario is actually similar to Wing Mario, since he can fly as well. But Flying Mario's cap has no wings. Also, Flying Mario can fly by using a Star Spin and no Triple Jump. Flying Mario may be considered better since he can stop in mid-air and also attracts Star Bits.
Gallery