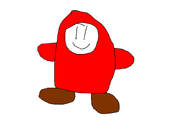 Flimby is a shy guy from Flimby: The Shy Guy Who Looks Like a Ghost, a spin-off of the Super Mario series and Sonic the Hedgehog.
Personality
His personality is an 1000 IQ than an average bear, He is inspired by Rayman, Mario, Sonic, Pac-Man and Mega Man mixed together.
Appearances
Flimby: The Shy Guy Who Looks Like A Ghost
Flimby 2: Shy Guy Under The Sky
Flimby 3: Shy Guy World
Flimby 4: Saving Coop
Flimby 5: Legends
Flimby 6: The Revenge of Seekers
Flimby Racing
Flimby Racing 2
Flimby Racing 3
Flimby Racing 4
Flimby Racing 5
Flimby Racing 6
The Flimby Collection
The Flimby Collection 2
Flimby Pilot
Flimby Pilot 2
Flimby Pilot 3
Flimby Pilot 4
Flimby Pilot 5
Flimby Pilot 6
More to come TBA...
TBA...