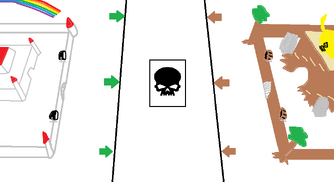 Flag of Power is a King of the Hill inspired game mode in Fortress Battleground in the middle of the map. The player, playing as a Toad or a Kong can raise the flag in the middle of the map. Once the flag is raised, a big ring will appear. More Coming Soon"
List of Waves
Toads
Toad Attack!
Nurse Attack! (NURSES! Emergency!)
Soldier Toad Attack! (SOLDIER Toads! Move out!)
Spiky Attack! (Time for some SPIKIES.)
Bagger Attack! (Show 'em who's boss BAGGERS!)
Sorceress Attack! (It's spell time, SORCERESSES!)
Colonel Attack! (Give no mercy COLONELS!)
Future Toad Attack! (Spin out FUTURE TOADS!)
Boss Attack! (Good luck, my precious BOSS WAVE!)
Endless Wave! (Oh my! You took out everyone! I think it's time for an ENDLESS WAVE!)
Kongs
Kong Attack!
Pirate Attack! (My PIRATE Kongs will make you suffer!)
Science Attack! (SCIENCE will make your brain explode!)
Engineer Attack! (My ENGINEERS shall take care of you.)
All-Star Attack! (ALL-STARS! Destroy them!)
Solider Kong Attack! (Unleash the Kong SOILDERS!)
Super Attack! (It's time to shine, SUPER APES!)
Imp Kong Attack! (Send out the IMP KONGS!)
Boss Attack! (That does it! It's time for a BOSS WAVE!)
Endless Wave! (Alright... You win... We give up.... GOTCHA! ENDLESS MODE ENGAGE!)
Ad blocker interference detected!
Wikia is a free-to-use site that makes money from advertising. We have a modified experience for viewers using ad blockers

Wikia is not accessible if you've made further modifications. Remove the custom ad blocker rule(s) and the page will load as expected.