This is a joke article, possibly made to make fun of FNAF. Understand that it is not supposed to be taken seriously.
—Freddie Freaker himself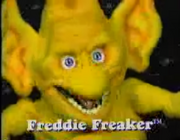 Five Nights at Freddie Freaker's is an upcoming PC title as a spin-off to the critically acclaimed Five Nights at Freddy's. The game is to feature the player on his own in a restaurant of sorts, with a horrifying monster known as Freddie Freaker. The goal of the game is to last an entire night and not be attacked by Freddie Freaker himself.
Trivia