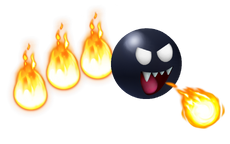 Fire Chomps are enemies made of a head followed by a tail of fire that get shot at Mario every now and then. After the tail is gone, it explodes. They can be defeated if Mario jumps on their head.
Game Appearances
Gallery
Ad blocker interference detected!
Wikia is a free-to-use site that makes money from advertising. We have a modified experience for viewers using ad blockers

Wikia is not accessible if you've made further modifications. Remove the custom ad blocker rule(s) and the page will load as expected.