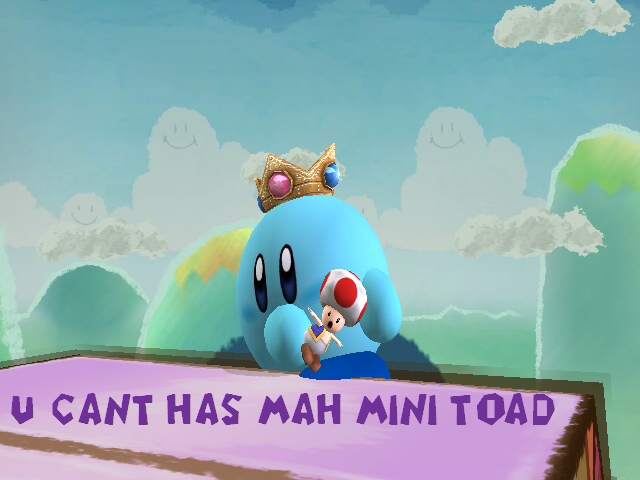 No higher resolution available.


Fantendo's Single Panel Comics #2!
By Shroobario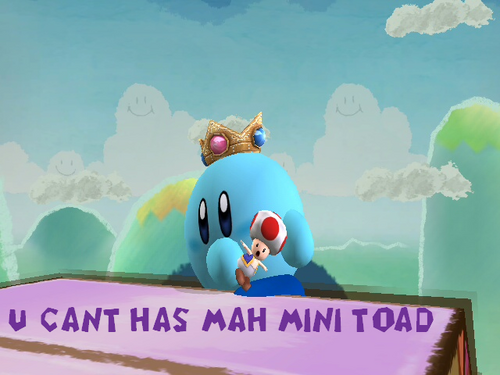 U CANT HAS MAH POST! But since you are so kind, I may let you see it =P So yeah... Did you like this one? At least is much better than the first issue of Fantendo's Single Panel Comics, and also, much better than my original idea for #2, that also involved Kirby and Mario series together. Luckly I was playing Brawl and than I paused, saw that pose, and took that funny picture, that gave me this fantastic idea.


Behind the Scenes


Name: Kirby's Mini Toad.
Issue:#2
Credits4Pic:Me, Shroobario.
4DaN00bs: Mini Toads are little toys that appeared in Mario vs. DK2: March of the Minis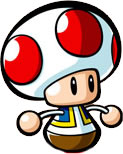 . The lil'guy with blue skin holding the Mini Toad is the not infamous, Kirby, the pink ball with mouth, eyes, hands and foot. It's famous for it's capability to copy abilities. There he is using that princess crown because he inhaled Peach. Also, it's blue, because in the game, SSBB, you may change it's color. In other games, such as Kirby: Amazing Mirror.
What's Going On?: If you aren't understanding because you know that's actually a real Toad, forget that. Pretend it's a Mini Toad. I know thet aren't 100% similar, but they are somewhat similar. Kirby is saying: YOU CAN'T HAVE MY MINI TOAD and... You are already supposed to have understood already. =P
Appears on these pages

of
(Please note the posts here are organized from earlier posts (top) to later posts (bottom...

The Fantendo Blog sometimes contains one of Fantendo's Single Panel Comics, which are exactly...

2008 June July September October 2009 June Fantendo Blog date Current • March • Feb. • Jan. •...
See full list >
File history
Click on a date/time to view the file as it appeared at that time.
Ad blocker interference detected!
Wikia is a free-to-use site that makes money from advertising. We have a modified experience for viewers using ad blockers

Wikia is not accessible if you've made further modifications. Remove the custom ad blocker rule(s) and the page will load as expected.