No higher resolution available.


Single Panel Comics arrived! Issue #1!
By Shroobario

I'm sorry but our post is in another blog. Nah, kidding. Ladies and Gentlemens! With you, Fantendo's Single Panel Comics, my new comic, which now on, you'll see all Fridays, Saturdays or Sundays here, in the Fantendo Blog! By The Way, this is my first post!!!!!11111oneoneoneone


Behind the Scenes


Name: Sorry but our comic is in another post.
Issue:#1
Credits4Sprites:Beam Luinsir Yosho, Zeon and A.J. Nitro.
4DaN00bs: In the game Super Mario Bros., at the first 7 castles, You'll defeat fake "Bowsers" and save Toad, Who'll say the annoying famous sentence: THANK YOU MARIO! BUT OUR PRINCESS IS IN ANOTHER CASTLE! Only at the last, 8th, castle you'll defeat the real Bowser and save Princess Peach.
What's Going On?: Mario got angry of doing such as hard work, to just find a Toad saying the annyoing phrase again and again.


Now, for something else entirely...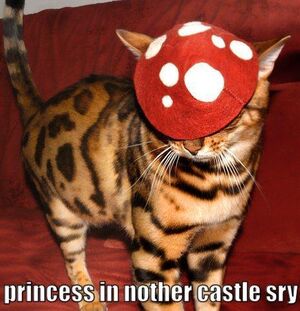 Appears on these pages

of
(Please note the posts here are organized from earlier posts (top) to later posts (bottom...

The Fantendo Blog sometimes contains one of Fantendo's Single Panel Comics, which are exactly...

2008 June July September October 2009 June Fantendo Blog date Current • March • Feb. • Jan. •...
See full list >
File history
Click on a date/time to view the file as it appeared at that time.
Ad blocker interference detected!
Wikia is a free-to-use site that makes money from advertising. We have a modified experience for viewers using ad blockers

Wikia is not accessible if you've made further modifications. Remove the custom ad blocker rule(s) and the page will load as expected.