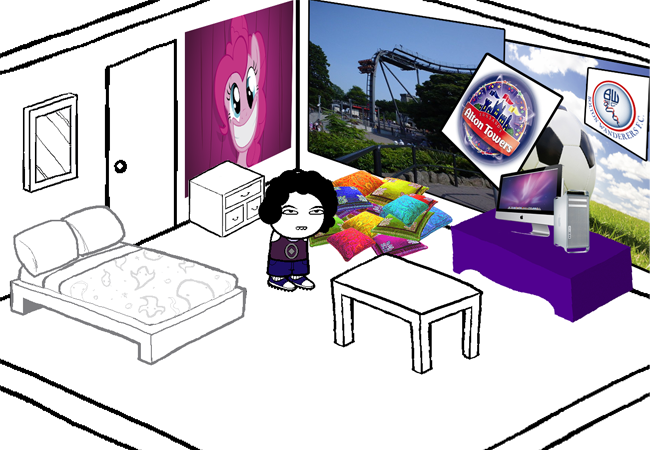 Your name is ALEX GREENEARL, or ALEXANDER GREENEARL. You are an IMMATURE TEENAGER with an UNHEALTY OBSESSION with ROLLERCOASTERS. You VIDEO GAMES, SOCCER and most of all PASTA. You loves PASTA SALADS so much. You would eat them EVERYDAY, EVERY MINUTE, EVERY SECOND.
You are the OLDEST OF YOUR FRIENDS and wear a DISTINGUISHING AFRO. You are always trying to prove you don't stick to OLD ENGLISH POSHY STEREOTYPES, and you like LOTS OF AMERICAN COMEDIES. You browse lots of FORUMS in your WEB BROWSER, CETUS.
You have a MAC, and you are totally an APPLE FOLLOWER. Think DIFFERENT. That was the SLOGAN, right? You would GIFT ONE TO YOUR FRIENDS if you could. They are just so SHINY. You think JAIRO would really LOVE ONE.
You CARE AND VALUE YOUR FRIENDS' GIFTS. Recently, it was your BIRTHDAY, and all of them GAVE YOU SOMETHING. Jairo? A PINKIE PIE POSTER. Uil? Some FRESH PILLOWS. Sparky? Well, it hasn't ARRIVED YET, but he told you it was SPACE TECHNO MODERN STEAMPUNK MODERNPUNK CANDYPUNK SECRETSANTAPUNK TECHNOLOGY. That must be a pretty cool thing.
You are trying to get your GNARLED CLAWS on a new game called SBURB that has recently popped up on the APPLE APP STORE. The PRIZE may be a bit high, but if all the HYPE and SCREENSHOTS are true, it's more than WORTH IT.
You will try to get it and PLAY WITH YOUR FRIENDS. That will be so cool!
In fact, you plan to turn on your MAC right now and try searching for it. You just put some money in your BANK ACCOUNT, so you guess you will have ENOUGH TO PURCHASE IT.
Ad blocker interference detected!
Wikia is a free-to-use site that makes money from advertising. We have a modified experience for viewers using ad blockers

Wikia is not accessible if you've made further modifications. Remove the custom ad blocker rule(s) and the page will load as expected.