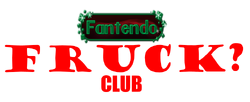 Fantendo Regular Users Club K?
, or
FRUCK?
for short, is a club created and led by
AgentMuffin
(t∣b∣c)
on December 22, 2015. The club is for users who use the wikia frequently and have no sysop rights, giving the word "Regular" in its title a double entendre.
FRUCK?
members, or
FRUCK?ers
, have the opportunity to participate in special events and even contribute to others' companies.
Members are also able to use the official FRUCK? site to plan and brainstorm events! However, the events themselves will continue to be hosted on Fantendo, hence the club's name not changing.
If you meet the requirements, you can ask to join in the comments
.
Ranks
Elite members are able to create their own events. The elite rank is gained after participating in five events. However, FRUCK?ers with chatmod and/or rollback rights can't become elite. The founder rank is, similarly to foundership on Wikia in general, just a special form of this elite rank.
If a FRUCK?er gains admin or crat rights, they will "graduate", and will no longer be able to interact as a part of FRUCK? unless their rights are removed. FRUCK?ers may also quit the club at any point in time, upon which they will be considered "retired".
Members
Former Members
Events
Please edit the page to sign yourself up for an event.
Event
Description
Sign-ups

Holiday Game Collab 15
12-25-15 to 1-1-16

In our first ever event, HGC15, you have 7 days to collaborate on and finish a game. What kind of game? That's what you'll decide, as we'll be building it essentially from scratch!

Sign-ups are closed.
If you signed up,
go to the event.

AgentMuffin
TerrariaBoss
LegendaryIce
Drackula
NovaPen
PokeRob

Recommended Reading Day 1
1-9-16

Have an article you've put a lot of effort into? Want to get more people to notice it? Sign up for RRD1 and you can share your page with other FRUCK?ers! That is, as long as you comment on someone else's recommended article yourself.

Sign-ups are closed.
If you signed up,
go to the event.

AgentMuffin
CrunchTime420
NovaPen
HoshiNoKaabii2000
PokeRob

Troubled Shadows Day 1
1-15-16

This event is totally not at all related to Disturbed Silhouettes. In it, you can redesign characters and submit their art to the TSD1 thread! Redesigns can be as wacky or as serious as you like.

Sign-ups are closed.
If you signed up,
go to the event.

AgentMuffin
CrunchTime420
PokeRob

Introductions
1-26-16 to 1-31-16

I don't know why this hasn't happened yet, but there'll be an introduction thread somewhere soon. Don't need sign-ups for this but you can if you want lol

Sign-ups are currently open!.

NovaPen
FluffyYoshi
PokeRob

Rhythm Rebellion
1-26-16 to 2-14-16

This event is to finally create and finish the article we all came up with at Holiday Game Collab '15. We've taken a long time to do anything in this group, so Nova is here to try and revive the holiday spirit!

Sign-ups are currently open!.
Trivia
AgentMuffin had conceptualized the club a while before its creation. The name was only decided seconds before he pitched the concept on Fantendo's chatroom.
PokeRob and NovaPen are elite members as they were on chat while Agent was discussing FRUCK?'s creation. Drebbles can also become an elite member should he make himself an official member due to him being on chat as well.
Due to a loophole in the chatmods-and-rollbacks-cannot-become-elite rule, users who became elite before gaining said rights will remain elite.
Agent might create a FRUCK? Wikia to help organize the sub-community and the events.
Ad blocker interference detected!
Wikia is a free-to-use site that makes money from advertising. We have a modified experience for viewers using ad blockers

Wikia is not accessible if you've made further modifications. Remove the custom ad blocker rule(s) and the page will load as expected.