Welcome, all, to MarioGameChampion (t∣b∣c)'s presentations at the Fantendo Holiday Showcase 2012! Before I begin the presentations, I would like to thank everyone in the Fantendo community for hosting this event, especially DK (t∣b∣c), and you especially for reading this. Also, happy birthday to SMB64 (t∣b∣c)! So anyway, let's cut to the chase lolgetit. I've been working hard on a sandbox game, that has actually been around for 14 years in fanon, known as Lava Path 64! Here's a 15-year-old poster poster displaying the 3D Mario Chase mode (not the boxart):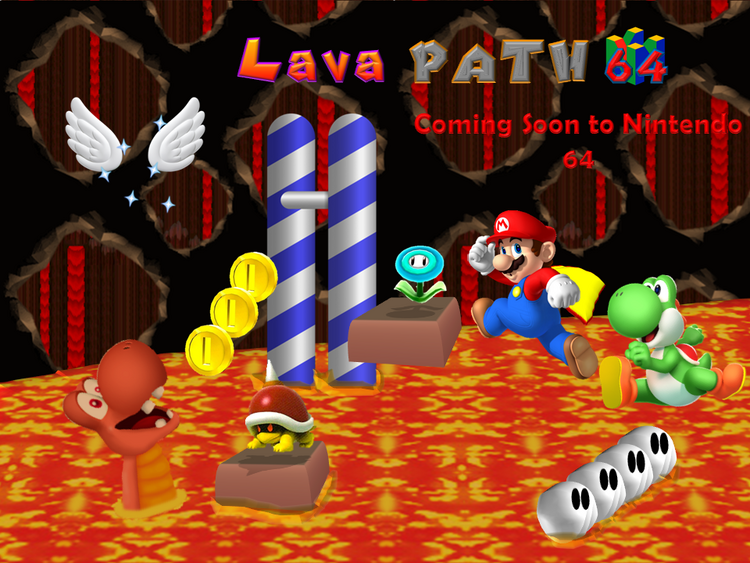 Credit to Doh (t∣b∣c) for the Blargg art!
I know that some of the art didn't exist at the time, but it's fanon, y'know. Anyways, here is some info for y'all to know:
Story
Well, taken directly from my LP64 announcement blog (actually, I added the part about the Nep-Enut):
"

Well, the game features the last SMW Blargg in the universe,

Lava-Bob

, leaving Vanilla Dome and going to find a safe place from

that evil plumber

that killed

his species

. He allies up with a Nep-enut and they go on to find a place. He soon finds that his friends' souls have entered lava, and are being reborn purely from lava. After that, I am not sure yet.

"

— Me, the announcement blog
Gameplay
Also from the announcement blog:
"The game is planned to be a "Sandbox", meaning it will be a never-ending game, kinda like Animal Crossing or Minecraft. However, you can beat bosses and all that. Achievements will also be featured. The game DOES feature an almost complete story though, but at one point you're just stranded and go on your own adventures. Also, the game will NOT be taking place during any Mario game for the 64."


— Me, the announcement blog
As promised in the blog, more is to be revealed here.
RPG Mode
Even though the game is a sandbox, you can continue on the main story throughout the game. This is actually important for certain achievements. On this, you will be brought to several different fiery worlds.
DIY Bosses
Any area has unlimited exploring, but sometimes you may be looking for a fight. You can use whatever materials you have in your bag to create an enemy. After putting materials together to form a creature, you can then use the Doom Enchantment Wand to then bring them to life and customize their attacks. Creating these will give you achievements.
Anyways, thanks for reading! Expect more soon! Remember to check out some other cool games and such at my presentation home.


Merry Christmas!

~MGC