Fantendo DS
Developer(s)
EagleizeGaming
Console Type
Tablet
Feature(s)
Virtual reality, lasers
Backward Compatibility
All Fantendo Games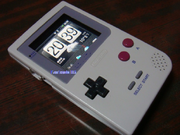 The
Fantendo DS 
is the first console by EagleizeGaming, and is a powerful portable gaming entertainment device with many capabilities, all the games can be Downloaded or bought physically. The Console has 129 GB and will be released in Winter 2013. The console will be released in these colors: Flat Gray.
Features
The Fantendo DS, similar to it's Nintendo counterpart, continues to endorse the hardy cartridge, which is designed to contain 5x the information and is constructed from backlight for stability. Each cartridge is the size of stick of gum and weighs about .5g
Instead of focusing on two screens, the Fantendo DS features a single, super bright LCD display boasting a FAT color palette rendered by its Atari GFX HD 9800 processor. Above the screen are two cameras for 3-D interlaced photography and a microphone for Skype. These features are active even when the handheld is disengaged for insurance reasons.
Controls are similar to that of the Nintendo DS, featuring a touch screen as well as D-Pad and customizable buttons.
Games
If you'd like one of your games to be for the consoles, feel free to ask in the comments.
SPECS

| Processor | Video | Sound | LCD | BAKLITE | DATAPATH | UART | SCART |
| --- | --- | --- | --- | --- | --- | --- | --- |
| IBM 80386 AT 0.2Ghz | R/B/UV 30Hz NTSC | Nakamichi Dual Motor Driven PWM | 300x280 | yeee | WIDE 128BIT | Yes | Yes |
A/V I/O
The Fantendo DS features 2 HDMI video outputs, RCA composite with RCA style plugs, 1/2 jack socket for headphones, 2 speaker cable latches for A, A/B, B operation, and a grounding wire connection.
Thermal properties
Due to an internal NTSC/PAL/SECAM video generator, the EagleizeFantendoDS (EFDS) is known to become hot around the surface and backplate. It is advised consumers not hold the portable console and instead use a controller plugged into the speaker cable latches.