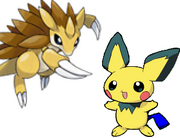 Fantendo Civil War 2
(Or
Fantendo Civil War: The Invasion
) is a game by
Bomb Productions Games
. Since it's a game by
YoshiEgg

, please do not edit except for spelling errors and, if your characters got an invitation and was not put in, you should add them immediatley. It is the sequel to
Fantendo Civil War
.
Factions
Unten's Faction
3.14's Faction
McBoo's Faction
Ella Metals's Faction
The Parasite Republic
Story
TBA
Artwork
Ad blocker interference detected!
Wikia is a free-to-use site that makes money from advertising. We have a modified experience for viewers using ad blockers

Wikia is not accessible if you've made further modifications. Remove the custom ad blocker rule(s) and the page will load as expected.