Host: SuperDuperMarioKirby (t∣b∣c).
Howdy, everybody, and welcome to Electric Enterprises's edition of the Fantendo Carnival Showcase!! I'm your host, SDMK, (t∣b∣c) and today on day one we'll talk about one of our current projects, Epic Warriors!!!
So Epic Warriors is a fighting crossover, which is also an umbrella game. It has characters from a bunch of different series', such as:
Mario
Kirby
Animal Crossing
BitF
Pokémon
Gravity Falls
SpongeBob
Adventure Time
Even some Fantendo stuff! (no i won't take requests)
So you can expect a lot of stuff in this game. There will be exactly 100 characters in this game; 40 default and 60 unlockable. There are a bunch of modes like Tourney (where up to 64 people can play at once), Missions, and Classic. There's also a store to buy new cool stuff run by this mushy guy: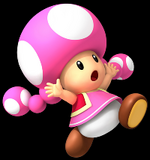 There will even be a guest appearance by someone you know...
See you tomorrow! And don't let Antasma kill you.
On the eighth we'll talk about Pokémon Kalos Camp, a storage game similar to My Pokémon Ranch. It only works for X&Y.
Since we can't on Sunday, we'll double post on Staurday to talk about Nintendo RACEWAY, a racing crossover game we've been developing.
Last but most certainly not least, on Monday we'll unveil our super secret project!
Ad blocker interference detected!
Wikia is a free-to-use site that makes money from advertising. We have a modified experience for viewers using ad blockers

Wikia is not accessible if you've made further modifications. Remove the custom ad blocker rule(s) and the page will load as expected.