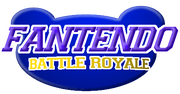 Fantendo Battle Royale is a 2D sidescrolling fighting game made by Fantendo and Creative Creations Inc. which features tons of Fantendo characters duking it out.
Roster
Image
Name
Moveset
Intro and Outro
Unlockable by...
Unten
Coming Soon
Intro: Runs into screen then leans back waving hand.

Outro: Win: Raises the roof. Lose: crosses arms with bored face

YonenBooe
Coming Soon
Intro: Falls to ground, then smiles.

Outro: Win: Jumps for joy. Lose: Looks down and frowns.

Bombell
Coming Soon
Intro: Fades in with face covered by hands, then takes off hands and makes Boo face

Outro: Win: Does a dance Lose: Gets angry and explodes.

Propeloo
Coming Soon
Intro: Flys into stage

Outro: Win: Shakes tongue. Lose: Floats down with sad face
Ad blocker interference detected!
Wikia is a free-to-use site that makes money from advertising. We have a modified experience for viewers using ad blockers

Wikia is not accessible if you've made further modifications. Remove the custom ad blocker rule(s) and the page will load as expected.