Ad blocker interference detected!
Wikia is a free-to-use site that makes money from advertising. We have a modified experience for viewers using ad blockers

Wikia is not accessible if you've made further modifications. Remove the custom ad blocker rule(s) and the page will load as expected.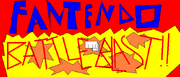 No one shall allowed to edit but me and/or with legal permission!...Unless you know how to make a better table than this.
Fantendo Battle Blast (Fantendo: Blast in Battle Land!! in Japan) is a sandbox, 3D Fighting Game for only the Wii U. It is curruntly in early construction and is about to be announced. However, the early title is revealed, and the character chart is already made.
Characters
Image
Description
Stat
Signature Attacks + Blast Attack
Special Abilities
Method of Unlocking
The mascot of Fantendo is ready for more! With his balanced stat and his all new Blast Attack, the Combo Finisher, he can handle any difficult situations. Recommanded for beginners.

HP: 3/5

Power: 3/5

Defense: 3/5

Speed: 3/5

Flip-Punch


Spin-Kick


Blast Attack: Combo Finisher (Strong and quick combo with a powerful blast in the end)

Swap-Form: Can change form by simply touch the Wii U Controller's Touch Screen.


Rage: If the character have lower than 25% HP, he will enraged and the damage will be doubled against enemies

Default
Unten's faithful partner. Her high speed and attack make her very effective offensively, but have lower HP and defense than Unten.

HP: 2/5

Power: 4/5

Defense: 2/5

Speed: 4/5

Distant Claw

Power Howl

Blast Attack: Wild Clash (Make combo of slashs and kick then finish it with a double cross.)