Everything eventually rots to nothing.

TIMESTRIKE PREVIEW

Welcome to the my Fantendo 9th Anniversary Showcase preview! My name is .snickedge, as the majority of you know, and here, I am presenting plans of my company, TimeStrike. Something that you should note before continuing is that SOME OF THE LISTED WILL BE ON THE LAPIS WIKI.
I won't go into high detail with what I'm listing but expect the following:
A game based off of TimeStrike's villains, including Endal the Monkey, King KrunchKake K. Krunch, the Echeno, Lord Garchomp, and Lapis-exclusives like Valerie and Mallory.
A stealth based game using mechanics from Sonic the Hedgehog and Portal of all things. It will star the character Silver.
A battleship, chess, checkers, scrabble, etc. themed game collection based on the characters of the Zaxinian lifts.
Probably the most unhealthy adventure ever, starring Captain Crunch.
???
???
???
???
???
??? ??? ???
"No team outworks teamwork." - Dwyane Wade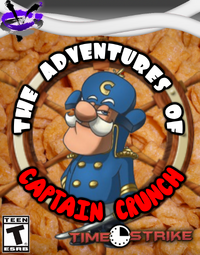 "and kill me now" - .snickedge
Those two teasers, and the above list are what I'm doing for this preview. See you next millennium for the true showcase!
Ad blocker interference detected!
Wikia is a free-to-use site that makes money from advertising. We have a modified experience for viewers using ad blockers

Wikia is not accessible if you've made further modifications. Remove the custom ad blocker rule(s) and the page will load as expected.