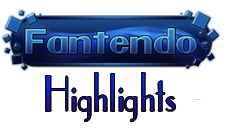 In this section of Fantendo - Highlights, you can submit a game that you like and describe it, allowing for other users know about it and maybe get interested in them.
Don't forget to sign the description with your username using the User template. To submit, edit the section below. A cover is optional, but it would be useful if you could upload it.
Pictures must be 180px on the table.
Submissions
Cover
Title
Genre
Platform(s)
Description
Chrono Trigger
RPG
SNES, Nintendo DS, iOS, Android
A fantastic RPG done by Square Enix. An easy to understand role-playing game, with a great story, great characters and fantastic settings. Has an amazing soundtrack and it is overall an easy game to get through, so even if you are not good at RPG games, you can easily get into this one. I recommend the DS version more, because it features a map on the lower screen, making progress easier, as well extra content.
- .vectorDestiny (t∣b∣c)
Reviewsical Hero
Rhythm 
PC
This is a small game released by Pixelbear. It is much like Guitar Hero but with songs taken from Videogamer.com's reviewsical series. It's a fun time killer.
- Andrewtheking (t∣b∣c)
Team Fortress 2
First-Person Shooter, Hat Simulator
PC/Xbox 360/Playstation 3
Trade hats and kill ppl,thats the tf2 way. A cartoonish FPS featuring 9 classes with different strengths and weaknesses. Co-operate with your team against the other guys or team up with 5 other players to kick robot ass in MVM. You can also trade hats if you want.
- CrunchyTommy (t∣b∣c)
Fantasy Life
Roleplaying
3DS
Really fun life simulator game with jobs and combat. There's house customization although not on a level that Animal Crossing is. You always feel like you're progressing in this game and the story is alright for what is, although it's a bit wordy with some genuinely great characters and good moments.
- Exotoro (t∣b∣c)
Kingdom Hearts II
JRPG
PS2
This is the first game I owned. I bought a Playstation 2 just for this game and I love every bit of it. It's amazing that such a huge game could fit onto a PS2 CD-ROM and further more impressive that nearly all the game is still just as amazing as I first played it. It is not without it's frustrations but it has aged incredibly well and it's just a really fucking good game.
- Exotoro (t∣b∣c)
Marvel: Contest of Champions 
Fighting, Free to Play
IOS and Android 
This is a free to play fighting game that came out on IOS and Android. It has many fighters from all over the Marvel universe. It's a fun game to play when you want to kill some time.
- Andrewtheking (t∣b∣c)
Donald Duck: Goin' Quackers/Donald Duck: Quack Attack
3D Platformer 
PC, PS1, PS2, N64, Gamecube, Dreamcast
Donald Duck: Quack Attack (known as Donald Duck: Goin' Quackers outside Europe) is a very fun game. It was created by Ubisoft, running on the same engine as Rayman 2, with gameplay and level design similar to Crash Bandicoot. As you can probably tell, it is based around Disney's Donald Duck. The gameplay is fun, the characters are charming and the level design is decent. I loved it when I was younger and still enjoy it today. It's definitely one of the better licensed games.
- PolisKanin (t∣b∣c)
Rocket League 
Sports
PlayStation 4, Microsoft Windows
Rocket League is a game developed and published by Psyonix. a sequel to a gane that came out in 2008 called Supersonic Acrobatic Rocket-Powered Battle-Cars. It's very fun and wacky, great fun online. With smooth controls and even a cameo by Sony's own Sweet Tooth, it's one to watch.
- Andrewtheking (t∣b∣c)
Payday 2
First-Person Shooter, Cloaker Victim Simulator
PS3,PS4,Xbox 360,Xbone,PC(best version)
Like co-op FPSes but either A. beat or B.too much of a pussy to try Left 4 Dead? Well then grab your friends and go rob some banks in payday 2! With RPG elements like leveling up and skill trees You're gonna be a god by the time you're level 50....in overkill mode. God save your soul in DW.
- CrunchyTommy (t∣b∣c)
Super Hexagon
Action, Twitch
iOS, Android, Blackberry, PC
If you're looking for proof that video games are healthy, you're looking at it right now. Super Hexagon is a great mind training game that will improve your reaction time, and it also comes with an insane soundtrack. After, try Open Hexagon.
- MidnightYoshi (t∣b∣c)
The Desolate Hope
Many
PC
From the developer Scott Cawthon (known for the FNAF games), The Desolate Hope is an unique mix of different genres, 2D platformer, dungeon crawler and etc., it is a fantastic looking game, having an unique artstyle with a gameplay that may attract fans of the Metroidvania genre. It is an unique experience for sure, something akin to the first time playing the FNaF games, but more accesible for people turned off for jumpscares and for the ones that prefer an artistic and unique game.
- .vectorDestiny (t∣b∣c)
Transistor
Action RPG, Isometric
Microsoft Windows, PlayStation 4, Linux, and iOS devices
From developer Supergiant Games comes one of the nicest looking games that i have ever seen and on top of that, it plays really well too! This game has the player control the main character, Red as she travels through a series of locations, battling enemies known as the process.  With a great story and good voice acting to boot, this game is great. Check it out!
- Andrewtheking (t∣b∣c)
Rhythm Heaven Fever
Rhythm
Wii
A surprisingly challenging but fun rhythm game that you may or may not have heard of (partially due to the memes surrounding it). It will test your ability to pick up a beat and do something to it, whether it be playing badminton in a sky or playing a tambourine with a monkey. There are also some fun unlockables, too! Great Wii game but, depending on your opinion, either underrated or overrated.
- Smileykits (t∣b∣c)
Geometry Dash

Arcade

Music

Platformer Runner

Level Creator

Mobile

Steam

Geometry Dash is a platforming game that involves a cube with many transformations avoiding obstacles and trying to get to the end of the level without being hit by anything. It is very difficult to master, but once you do master it, it can be an extremely fun game. It has both a Lite Version (Free) and Full Version ($1.99, $3.99 on Steam). It also features a Level Editor, which is only accessible in the full version.
- KinglerMaster (t∣b∣c)

Shin Kidō Senki Gundam Wing: Endless Duel

Fighting

Super Famicom

Gundam Wing Endless Duel is a 2D Japanese fighting game featuring the famous mech robots from Japan. The game starts out as simple but advances in difficulty when you progress through the story mode. The game also features a combo system which allows you to jump, shoot and slash your opponents to victory. Unfortunately, as previously stated it was only released in Japan and can only be played through an emulator or a Super Famicom system. Either way, it is a great fighter and if you haven't played it, try it out!
- TameMeow (t∣b∣c) /Werewoof

Dynamite Headdy

Platformer Schmup

Sega Genesis,Mega Drive, Sega Game Gear, Sega Master System (Brazil only), Virtual Console, Steam, PlayStation 2, PlayStation 3, Xbox 360

Dynamite Headdy is a fun little platforming gem which was created and developed by Treasure and released on a multitude of platforms. The game stars the titular hero, Headdy a puppet who arrives in North Town only to find the main antagonist, dark demon destroying Puppet Town and capturing the citizens only to convert them into minions. Other puppets that were good were thrown out to be incinerated. Headdy was one of the puppets who was rejected by D.D's forces but luckily he escaped and set out on a journey to destory the evil mastermind once and for all. The game is a solid platformer and is easy to learn upon playing, Headdy can also transform his head into different objects like bombs and hammers when coming across a headbox. The game also switches genres along the way with schmup levels thrown in to face certain bosses such as the bear who wants to assassinate Headdy, Trouble Bruin (or Maryuma in Japan) the game also has a great soundtrack. If you love platforming games and schmups this is for you.
- TameMeow (t∣b∣c) /Werewoof

Magical Quest Trilogy
Platformer

SNES, Super Famicom, Sega Genesis, Mega Drive, Gameboy Advance

Don't underestimate a Mickey Mouse game because these 3 are great. The Magical Quest series was very under looked due to Castle of Illusion receiving more attention and the game was fairly easy according to critics. With that aside, the game is a fun and easy platformer where the 1st game you control Mickey Mouse to rescue his dog Pluto from the villain, Baron Pete while journeying through 6 worlds. The 1st game also features 2-player but in the turn based fashion as in if player 1 dies, player 2 plays. The 2nd and 3rd game however, included 2-player co-op which makes the game more with a friend. The 3rd game was ported to america on the GBA however, but the Super Famicom version is fairly better due to the co-op. The game has wonderful music and unique bosses as well with mid-bosses that appear in each world.
- TameMeow (t∣b∣c)/Werewoof
Steve Jackson's Sorcery
Adventure
iPhone, Android, Windows, MAC OSX
Steve Jackson's Sorcery is a great, unique game based upon the four-part gamebook of the same name with an amazing artstyle, reminscent of Dungeons & Dragons gamebook illustrations. It is basically a video game version of a choose-your-own-adventure gamebook, where the player has the free will to go where they want and do whatever action they want. It is an episodic game, with the first three parts being available for purchase on iPhone and Android and the first two being available on Steam. The game is more about the story and less about the gameplay itself, but that's alright, since the game's plot is very well written and detailed. Combat is okay, but it is not something that you will be doing for the game anyway, unless you want to. Through cloud saving, you can keep a character from one episode to the other, unless you want to start a new character in another adventure. It is very replayable and very fun.
- .vectorDestiny (t∣b∣c)