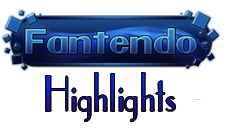 In this section of Fantendo - Highlights, you can submit a Fantendo article that you like and describe it, allowing for other users know about it and maybe get interested in them.
Don't forget to sign the description with your username using the User template. To submit, edit the section below. A cover/picture is optional, but it would be useful if you could upload it.
Do not upload an article that you created.
Pictures must be 180px on the table.
Submissions
Cover/Picture
Title
Genre
Description
UNiPON
Platformer
A platformer fan-game by Kirbymariomega (t∣b∣c). While it is obviously under constrcution and nowhere near finished, it has great potential and is a good game. It follows the adventures of a Unipon on an adventure, defending from evil.
-KinglerMaster (t∣b∣c)
Olive
Action RPG
Okay so like Dk64rules (t∣b∣c) is a creative genius and this just highlights it. Read what's there so far, and I guarantee you'll enjoy it. 100% money back guarantee and everything!
-Mirai Moon (t∣b∣c)