See the new Fandraxonian Enterprises here.
"One company, many minds. One idea, many creations."


— .snickedge
Fandraxonian Enterprises
Founder(s)
snicks
Founded at/in
May 13th, 2014
Defunct at/in
November 4th, 2015
Headquarters
Tallahassee, Florida, U.S.A.
Area(s) Served
All
Owner(s)
snicks
No. of Employee(s)
N/A
Predecessor
Teddy Bear Enterprises
Fandraxonian Enterprises
, formally known as Teddy Bear Enterprises, is a company founded and owned by
User:.snickedge
.  It was founded on May 13th, 2014 after snicks decided to reboot Teddy Bear Enterprises, the predecessor of the company.  The company produces its own games, such as
Brawl of the Fandraxonians
, and it also produces games for Nintendo.
As of the date of Septembe 27th, 2015, Toroko owns many of the icons of Fandraxonian Enterprises, including Bowie, Fandro, and Crimson.  However, Toroko has no control over the characters or stories of General's Journey and Split Personality.
After the fall of Teddy Bear Enterprises, snicks decided to revive it under the new name of Fandraxonian Enterprises.  Seconds later, White joined, and upon request in chat the next day, Dreb607 and Monstermanchego joined.  Eventually, over time, more and more users joined, even though snicks is practically the only active member of the company as of October 10th, 2014.
Starting on January 4th, 2015, snicks has given everyone the boot and made the company much smaller.
At some point in late February or early March 2015, Fandraxonian Enterprises took over the company Jurplo via the owner's request.
On March 30th, 2015, snicks added to Fandraxonian Enterprises the new Broken Enterprises, a company that works on crossover games beginning after Brawl of the Fandraxonians.
On the date of June 16th, 2015, snicks has shut down most of the company's functioning for Fantendo, but from time to time Fandraxonian Enterprises works on a thing or two.
On September 7th, 2015, the company rebooted once more, full speed again!
Old News
As of June 29, 2014, the company took control of Koopompany and all of its products.
As of September 4, 2014, the company received its own wiki, Fandropedia! You can create your products there if you wish to.
As of October 7, 2014, Lucha del Roserade, the beginning of a new franchise, unleashed itself onto Fantendo!
As of October 11th, 2014, the company officially affiliated with Existence Software. This is like a huge honor, as the owner of Existence Software, TimeSoul, has made terrific games with unusually warm reception.
A sequel to Crimson el Roserade, Crimson el Roserade II: The Silver Knight, was announced on October 13th, 2014!
Currently we are planning another Fandro shipping game. We might receive help from Claus. We may only hope.
As of February 21st, 2015, Fandraxonian Enterprises have bought the company Jurplo, for $2 million.
Current News
Edit
I was going to do all of these projects but...I couldn't in the end.  So here's what was originally planned!
The Reminder and its prequel as well as The Hospital are of a separate branching line.
Lurking in the Dark is the preceeding part of Split Personality, so it's not "unincluded".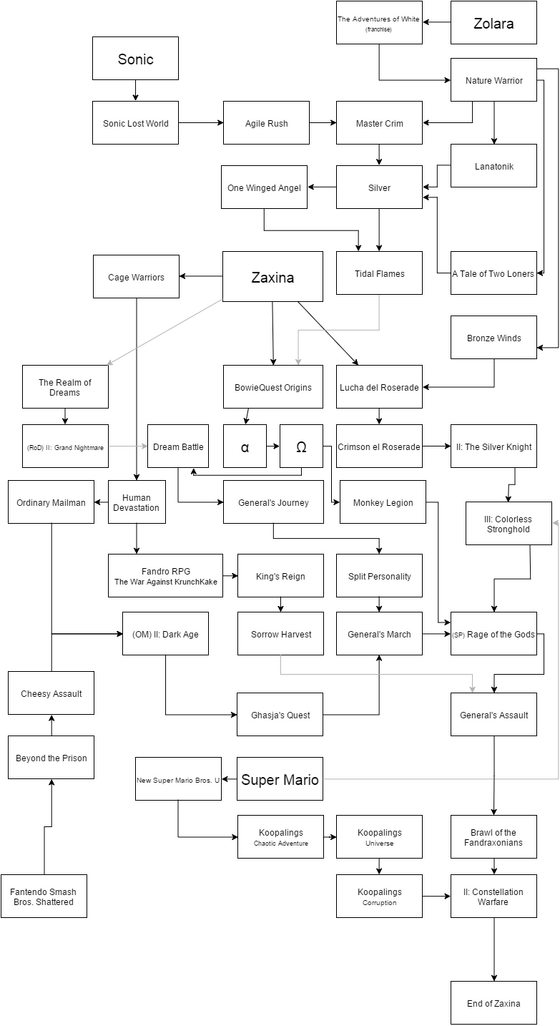 There are only five members in this company so far; .snickedge, LegendaryIce, Neon the Spelunker, KirLudwig and AwesomeLuke.  There can be a max of eight.
AwesomeLuke

KirLudwig

LegendaryIce

Neon the Spelunker

.snickedge
Home Consoles
Edit
Fandraxo is an upcoming console produced and published by Fandraxonian Enterprises.  It is the first of the Fandraxo line, and the first console overall to use the Fandreb, an alternative version of the Internet developed exclusively for this console.
Handheld Consoles
Edit
Subcompanies

Edit
Koopompany, a company that works on behalf of Nintendo, making games based on Bowser, the Koopalings, etc.
Blackfire Onyx, a band (not really a company) that preforms songs for the BowieQuest series.
​AffiliatesEdit