Ad blocker interference detected!
Wikia is a free-to-use site that makes money from advertising. We have a modified experience for viewers using ad blockers

Wikia is not accessible if you've made further modifications. Remove the custom ad blocker rule(s) and the page will load as expected.
Fake Bowser did not originate from fanon, and more information can be found on their respective wiki(s). You may read more about it on the following wiki(s):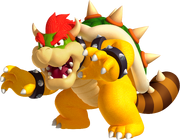 A Fake Bowser is a Mario enemy disguised as Bowser (but sometimes with a spiked Tanooki tail, as shown in the thumbnail, and with a spiked weasel tail), or a clone of him. They appear in Super Mario Bros., Super Mario RPG: Legend of the Seven Stars (under the name "Bowser Clones"), and Super Mario 3D Land.
Mario has to fight seven Fake Bowsers (one in each castle) before he can reach the Faker's Castle and fight the real one. Hitting a False Bowser with fireballs or pressing the ! Switch reveals that they are really just common enemies disguised as their king with a spell (presumably put on them by Bowser and the Princess Faker). The enemies and their attributes are:
Gallery