Life's a hinch.
This article, entitled FOE, you see before you, just so happens to belong to OwtheEdgehog, all the subpages, ideas and whatever shoved inside it. Which means, unless you are fixing some small errors, do not, and I mean DO NOT make major edits to this article unless you have my permission (mainly if you are collaborating with me),

<insert your name here>

. If you think you're funny and decide to make major edits it, you will most likely be given a reminder/warning/ban from a sysop/admin. So not even bother...

<insert your name here>

.
PSST! While you're here...you can talk to me here!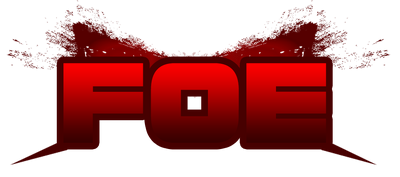 FOE is an upcoming umbrella 3D shooter/brawler game developed and published by "The Knife" (t∣b∣c).
Gameplay
FOE's gameplay is similar to that of Resident Evil 4's and Kid Icarus: Uprising's gameplay, being a 3D shooter/brawler game with the camera angle being similar to those aforementioned games, and just 3D Legend of Zelda titles, characters can lock onto opponents. Each character has up to four methods of attacking, defending or supporting in their movepool they can use in-game. On the HUD in the bottom-right corner of the screen shows the character's health bar, their current condition, and the team they are representing. On the HUD in the bottom-left corner of the screen shows which ability the character has selected currently, and next to it is a bar showing the cooldown period of the move.
Playable Characters
Starting Characters
Character
Information

Sniper

The Sniper, real name Mr. Mundy, is a Caucasian hailing from New Zealand, raised in an Australian outback. Being one of the nine playable classes in Team Fortress 2, the Sniper is known for being able to shoot from a far using his trusty Sniper Rifle.

---

MOVEPOOL

Sniper Rifle: Using his main weapon of choice, the Sniper Rifle can be used to shoot from long distances. The Sniper can use its scope by right-clicking, at the cost of his speed. If you get a headshot with this weapon, it will deal massive damage, enough to kill enemies if the scope it used.
Kukri: A large, curved knife used for melee and point-blank ranged combat. The Sniper can use this to hack and slash his enemies to deal damage.
Jarate: A closed jar which contains the Sniper's urine, the Jarate can be used to render enemies more vulnerable to critical hits for eight seconds or when they jump into a body of water, and can also cancel out status effects like fire if used on yourself or on your teammates.


Bandana Dee

Bandana Dee is a blue bandana-clad, spear wielding Waddle Dee who serves King Dedede as one of his lackeys. Bandana Dee is a harmless creature for the most part, not willing to hurt or injure anyone, though if he must, he will.

---

MOVEPOOL

Spear: Bandana Dee can use his spear for attacking normally, but can also throw it to pin down enemies, and twirl it around like a helicopter blade and slowly float downwards to avoid taking fall damage.
Beam Rod: Bandana Dee can create a line of electricity with the rod that is a multi-hit attack, but can charge the move to send out two revolving orbs of electricity, dealing a strong, single hit attack.
Parasol: Bandana Dee uses the parasol to reflect projectiles and slowly float downwards to avoid taking fall damage.


Shantae

Shantae is a half-genie character who protects her home Scuttle Town many times. Shantae has the ability to transform into many things via belly-dancing, ranging from a monkey, to an elephant, to a spider, and many more.

---

MOVEPOOL

Hair Whip: An iconic move from Shantae, which involves her using her long hair and cracking it forward to deal damage.
Flintlock Pistol: Shantae can use the Flintlock Pistol to fire projectiles forward to deal damage to enemies. She can fire up to five projectiles in one use.
Scimitar: Shantae uses the Scimitar as a melee weapon; slashing away with it. In the air, it can be used to do a powerful downwards thrust which deals heavy damage.
Transform: Shantae performs a belly-dance, which, if not interrupted, causes her to transform into different things, giving her more moves for a short period or after she is hit by an attack that deals over 15 damage. All other moves are disabled during this time and are replaced with all new moves.

Monkey: Shantae can crawl up walls, do a claw slash, and charge forward like a bullet when she clings onto a wall and does not move for a few seconds. The monkey form increases Shantae's speed and jump height, but makes her more susceptible for critical hits.
Elephant: Shantae can charge through to deal heavy damage, and do a stomp that crushes enemies under her and paralyzes enemies close to her when she stomps. The elephant form increases Shantae's attack power and makes her immune to critical hits and flinching, but her speed is severely decreased, along with her having a huge hurtbox.
Spider: Shantae can crawl up walls and ceilings, spit poisonous venom, and toss webs that constricts enemies for a short while. The spider form makes Shantae faster, but she takes more damage from normal hits.


Filia

Filia is an amnesiac schoolgirl whose hair possesses the parasite Samson, giving her a second mouth on the back of her head and giving her the appearance of a futakuchi-onna. Filia does team attacks with Samson, turning him into a multitude of things.

---

MOVEPOOL

Buzz Cut: Samson turns into a spinning saw that wraps around Filia's torso like a multi-hitting hula-hoop.
Hairball: Filia curls up into a ball as Samson covers her in spikes as they roll across the ground for a few seconds. In this state, Filia travels much more faster on the ground.
Gregor Samson: Samson takes the form of a cockroach as Filia jets forward to deal damage.
Queue Sting: Samson takes the form of a scorpion's tail and does a powerful stab forward.


Shadow

Shadow is a hedgehog said to be "the ultimate-life form" creation by Professor Gerald Robotnik, and a way to cure incurable diseases. He was launched to Earth after an incident that killed Gerald's daughter Maria, and was released by Dr. Eggman fifty years after the incident. Shadow can release a number of Chaos attacks and can manipulate time and space itself using his "damn fourth Chaos Emerald".

---

MOVEPOOL

Chaos Spear: A golden energy projectile released from Shadow's hands that travels straight forward with no curve, and can be charged to increase its damage output, but make it travel slower.
Chaos Warp: Shadow teleports to another location, and can do this up to four times before enter a cooldown state.
Chaos Control: Shadow uses a green Chaos Eemrald and gains a speed boost in many other player's eyes, though in reality he just slowed down time. The move has a huge cooldown state, and it is only possible to use this move three times per match.
Chaos Blast: Shadow creates a huge shockwave of red energy that leaves him vulnerable to attacks after its usage, and has a high cooldown state.


Tsareena

Tsareena is a Grass-type Fruit Pokémon hailing from the region of Alola, who evolves after Steenee and is the final evolution form of Bonusweet. Tsareena is a bipedal, fruit-like Pokémon based on a mangosteen fruit, being entry #763 in the National Pokédex, and is known for its high class nature, being hostile to any other Pokémon or human with evil in mind.

---

MOVEPOOL

Trop Kick: The signature move of Tsareena; a kick forward with leaves producing from its leg. In the air, the move is stronger and the move becomes a diving kick.
Double Slap: Using its calyx, Tsareena does two whacks forward with them, with the second whack dealing more damage and having higher critical hit chances.


Plague Knight

Plague Knight is one of the eight knights working for "The Order of no Quarter", a gang of villainous knights who serve the Enchantress, their leader. Plague Knight makes use of his bombs and Burst moves.

---

MOVEPOOL
TBA


K.O

K.O is a 6-11 year old kid who works at Gar's Bodega alongside with his best friends Enid and Radicles, and is the son of Carol. K.O has high pain tolerance, which causes him to be less susceptible to critical hits and normal hits, and is speedy, but has low attack power.

---

MOVEPOOL


Slide Kick: K.O does a low kick while sliding across surfaces.
Power-Fist Fireball: K.O fires off a light-blue fist-shaped projectile forward.
Power Battle Cry: K.O does an ear-shattering shout that stuns enemies in range, and pushes enemies near K.O.


Krystal

Krystal is a vixen who is a recent member of the Star Fox crew, replacing Peppy Hare as the fourth pilot. Krystal is a blue fox who is the team's main telepath and immediately joined the Star Fox team after the events of Plight of Sauria. She wields a powerful staff that can produce fire and ice projectiles, rocket her from the ground (seen when she does a crouch jump), create forcefields, etc.

---

MOVEPOOL

Fire Blaster: Krystal shoots a fireball from her staff to deal damage and set enemies on fire.
Ice Blaster: Krystal shoots an iceball from her staff that, while being weaker than the Fire Blaster, can freeze enemies.
Ground Quake: Krystal rises the staff above her and slams it downwards, creating a pulse of energy that knocks enemies away.
ForceField: Krystal creates a huge forcefield which follows her wherever she goes, negating all projectiles and protecting her and anyone under the forcefield from attacks. The field lasts for five seconds and has a huge cooldown state.


Corrin

Corrin was born into the royal family of Hoshido prior to being kidnapped and brought to the kingdom of Nohr as an infant, where they have spent much of their life as the prince/princess (depends on gender) of the kingdom. Having strong Manakete blood, Corrin can transform into a dragon at will.

---

MOVEPOOL


Yato: Corrin can use the Yato, in its Omega Form, to deal damage to enemies.
Dragon Fang Shot: Corrin transforms their hand into a pair of fangs and fires a water projectile at full charge that has a chance of stunning enemies. If not charged, they can do a bite with the hand to deal damage.
Dragon Lunge: Corrin transforms their arm into a blade and skewers the opponent with it.
Torrential Surge: Corrin transforms into their dragon form and creates a whirlpool that deals heavy damage, at the cost of having a high cooldown state.


Lucas

Lucas is the son of Flint and the now deceased Hinawa, and the twin brother of Claus, living in the small village of Tazmily Village. Lucas was gifted PSI powers at birth, with his signature move being PK Love.

---

MOVEPOOL

Stick: Lucas can use the stick for melee based combat, albeit it is pretty weak.
PK Love: Lucas sends out a hexagonal-shaped PSI blast from his fingers, acting like a projectile, to deal damage.
PK Freeze: Lucas tosses a snowflake projectile that has a chance of freezing enemies.
Rope Snake: Lucas can use the Rope Snake to grab enemies from a far and slam into them.

Unlockable Characters
Character
Information

Valentine

Valerie "Valentine" is the last surviving member of the Last Hope, who were killed during a clash between Double and the Skullgirl, Marie. Before their demise, she was second-in-command of the Last Hope, while Christmas was the leader.

---

Valentine can be unlocked by:

---

MOVEPOOL

IV Staff: Valentine uses an IV Staff to slash and stab enemies.
Savage Bypass: Valentine does a quick dash to slash through a line of enemies using her bonesaw. High critical damage rate.
Dead Cross / Flew Shot: Prior to using Vial Hazard, Valentine throws a cross-like shuriken forward, which deals pathetic damage to enemies. After using Vial Hazard, Valentine throws a syringe loaded with poison, which will leave an effect on enemies who are hit by the syringe.
Vial Hazard: Valentine loads a syringe with a type of poison, which will effect enemies hit by the syringe during her Flew Shot move.

Purple: Slowly decreases enemies health.
Green: Makes enemies more susceptible to critical hits.
Orange: Increases the cooldown period of enemies' attacks.


Dark Pit

Dark Pit is an incomplete creation from the Mirror of Truth, being the complete contrast to the guardian of Angel Island and servant to Palutena, Pit, being more serious and aggressive than him. He does not really serve for anyone, that is until he joined the Forces of Nature as an officer for the army.

---

Dark Pit can be unlocked by:

---

MOVEPOOL

Dark Pit Staff: Similar to Sniper's Sniper Rifle, Dark Pit uses his trademark staff to snipe enemies.
Silver Bow: Dark Pit can use the bow as a melee weapon or a ranged weapon, using it to either to slashes, or create dark energy arrows that can be controlled, but they are hard to do so.
Orge Club: A club that can deal serious damage to enemies, and shoot powerful projectiles, however, all of these attacks are rather slow.
Electroshock Arm: Dark Pit does a dash forward with an Electroshock Arm in hand, sending enemies away and deflecting projectiles.


Dipper & Mabel

Dipper and Mabel Pines are young teenage twins, who spent an entire summer in Gravity Falls, Oregon with their great uncle, Stanley Pines, all the while uncovering secrets that lies in the small town's paranormal side.

---

Dipper & Mabel can be unlocked by:

---

MOVEPOOL


Grappling Hook: Using Mabel's grappling hook, the duo can latch and bring themselves to surfaces, though the hookshot is limited.
Stages
Gallery
Trivia
This game was originally a 2D fighter with a roster which was...odd to say the least. In fact, "The Knife"'s own character, named Edgehog, appeared in the roster. It was dropped eventually.