Ad blocker interference detected!
Wikia is a free-to-use site that makes money from advertising. We have a modified experience for viewers using ad blockers

Wikia is not accessible if you've made further modifications. Remove the custom ad blocker rule(s) and the page will load as expected.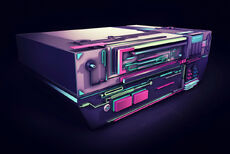 the FES(fantendo entertainment system)is a console developed by flopside studios
d-pad
6 buttons
triggers 1 and 2
start
home
Features
the FES could be considered a NES with modern technology,as it uses game disks like a xbox,controls like a nintendo 64,a menu like a cross between the 3DS and the PS2,but its most notable feature is the vast customization,it has several menu skins which you can make your own in the workshop and upload and download other people's skins in the fantenmart,most of the games on it also have large customization
list of Games
ask in the comments if you want your games on the FES!