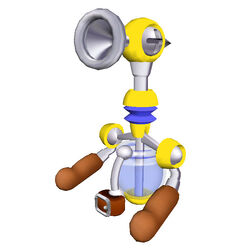 F.L.U.D.D. (Short for Flash Liquidizer Ultra Dousing Device) is a pump created by Professor E. Gadd. He appears in various games. He debuted in the 2002 GameCube game Super Mario Sunshine.
Appearances
F.L.U.D.D. makes a small appearance in Super Mario MHL. He helps Mario clean up goop in Water Coliseum and on Daisy Cruiser.
The F.L.U.D.D reappears in Windmill Rewind Galaxy in Super Mario Galaxy 2.5, but this time, as a helper. He tells Mario where Petey Piranha is, How to reach him and therefore how to defeat him. So he, in a way, helps Mario/Luigi defeat Petey Piranha. After Mario/Luigi defeats Petey Piranha, he appears on Starship Mario and, later, on Starship Toad.
F.L.U.D.D. appeared in New Super Mario Baseball. However, unable to operate by himself, Prof. E. Gadd programmed a robot body for him to control. He is a player for the Super Marios. His stats are as follows:
Speed: 7/10
Batting: 6/10
Pitching: 8/10
Fielding: 8/10
Good Chemistry: E. Gadd, Mario, Pianta, Noki, Yoshi
Bad Chemistry: Bowser Jr., Bowser, Petey Piranha
In Mario Kart: Double Dash!!! 2, F.L.U.D.D. appears as an item that can splash racers, causing them to spin out.
F.L.U.D.D. appears in Jake's Super Smash Bros. in several different ways, the most prominent of which is as Mario's down special move. After equipping F.L.U.D.D., Mario is capable of using the Squirt Nozzle in order to spray a jet of water to push away nearby foes. This attack deals no damage to fighters, allowing him to also keep those who may be in a helpless state away from ledges.
F.L.U.D.D. also appears as a trophy.
Trophy Description
The Flash Liquidizer Ultra Dousing Device is one of the many wonderful inventions developed by Gadd Science, Incorporated. With the power of F.L.U.D.D., anyone can become an A+ cleaner within minutes! F.L.U.D.D. comes equipped with the Squirt Nozzle, allowing its user to clean away any paint that they may or may not be responsible for. But that's not all! There are a number of different nozzles that one can equip F.L.U.D.D. with. Are there any short gaps that you may be unable to jump across? With F.L.U.D.D.'s Hover Nozzle you could fly over those without an issue. F.L.U.D.D. can also be given a Rocket Nozzle to propel its user to great heights or a Turbo Nozzle to allow them to run so fast they'll become a colourful blur. Buy one today! We ship to all areas of the Mushroom Kingdom!* *Note: We only ship to Isle Delfino.
F.L.U.D.D.
Gallery
Navigation Templates
Playable Characters
Default
Unlockable
Alternate Characters
Assist Characters
| Default | Unlockable | Pokémon |
| --- | --- | --- |
| | | |
Obstacles
Other Characters
Alolan Grimer · Amul · Ann Takamaki · Big Urchin · Blizzy · Bravoman · Buzz-Buzz · Cutiefly · Don-chan · Dragoneel · Fierce Deity · Gil · Happy Mask Salesman · Judge · King · Kissy · K.K. Slider · Litwick · Lloyd · Mappy · Mareanie · Mii · Missile · Morgana · Perry · Pidgit · Pooka · Rabbid Luigi · Rabbid Yoshi · Red Baron · Ribbon · Rowlet · Runner · Ryuji Sakamoto · Sandy · Smasher · Rusty Slugger · Servbot · Sima Zhao · Swanna · Tarosuke · Timmy Nook · Toadsworth · Tommy Nook · Tron Bonne · Valkyrie · Wonder Momo · Ziggy