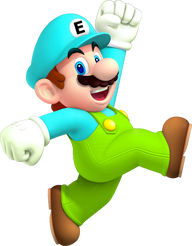 Ethan is also known as the user Ethanmark7199, and is the creator of the Yoshiro series. He is similar to Mario in appearance, but has a cyan hat with the letter E, a cyan shirt, and green overalls. He likes to play video games a lot, make Mario Bloopers (He even stars in a few of them), and watch funny YouTube videos.
Apperance
Ethan will appear in the next Yoshiro game, where he will help Yoshiro and Yoshara out.
Gallery
Ad blocker interference detected!
Wikia is a free-to-use site that makes money from advertising. We have a modified experience for viewers using ad blockers

Wikia is not accessible if you've made further modifications. Remove the custom ad blocker rule(s) and the page will load as expected.