Emilia Piece
is the main character of a new fan series,
Skyknights
. She is a racer, taking part in the Air Races, flying in her place "Sky Knight".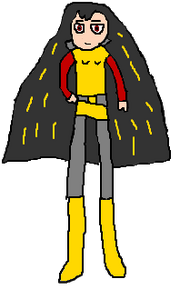 Personality
Emilia is very ambitious, and because of it, she always tries to be above everyone, and can't take it if someone is better then her. Because of it, she's rather ruthless, stopping at nothing to archieve her goals. Outside of her job, however, she can be a rather nice person.
Appearance
Emilia has long, black hair with a little of gold. Her hair is very long, it's almost reaching her knees. However, she mostly hides it with a pilot helmet. She wears a pair of gray trousers, along with a red-gold jacket.