This is a article by Flamepeeps. DO NOT EDIT WITHOUT PERMISSION!
Nintendo EliteHD
The Nintendo EliteHD was built from remaining test parts of a 3DS. It was a test taken out by Flamepeeps to see how powerful the processor could be. The original test game was just a Mario platformer.
Games
Here is a list of all the games.
New Super Mario World HD:The Secret Of The Stars
Monkey Party With AiAi And Friends
Here are all of the (sadly) cancelled games:
List Of Cancelled Games

| Name | Reason |
| --- | --- |
| Dark Void: New Horizons (CAPCOM) | The game was announced at E3 2011 and shortly after E3 ended, it was brought down. |
| EliteFun (Flamepeeps R&D1) | No one really knows. |
| Sonic Xtreme Galaxy (SEGA And Nintendo) | Too many failed tries at the original meant no one wanted to have another go. |
| Super Mario HD | As the title kind of explains, this was just a tech demo showing Mario in HD. |
Features
Here's a list of every service:
Nintendo eShop
TV Remote Elite
NinToons
Nintendo Video Plus
Elite OnLine
Netflix
Lovefilm
Internet Surf's Up
Amazon KindleReader
Sega JamminTunes
Nintendo Zone
FlipNote Movie Maker Deluxe
Media Player
Game Maker
DIY Store
Wario's Wares
Mii Factory
Club Lounge
BBC iPlayer (UK Only)
Food Shopping (Europe)
U.B Funkey Chat (US And UK Only)
DLC
Android Picks (2012 Update)
SEGACity (2012)
Festive Vids (Around Christmas Time)
Media Maker
Settings
SEGA's History With Flamepeeps Media Entertainment
Because SEGA were so eager to see this new SDK they begged for one. Flamepeeps' favorite developer is also SEGA as they are persistent.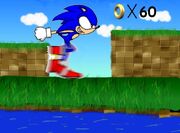 Games developed by SEGA for the EliteHD:
Gallery
Ad blocker interference detected!
Wikia is a free-to-use site that makes money from advertising. We have a modified experience for viewers using ad blockers

Wikia is not accessible if you've made further modifications. Remove the custom ad blocker rule(s) and the page will load as expected.