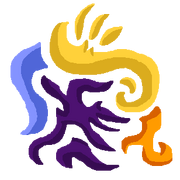 Elementha
is a mentioned world within the
Voidverse
timeline. Elementha is the planet where the Persona Gods originally lived before the came to Earth. The name of this world is never mentioned in any of the sagas, but Clemethai mentions it as he is telling
Colin Four
the origin story of the Voidverse at the end of
The Colin Four Saga
.
The Gods of Elementha
The Gods of Elementha are mystical deities that control 4 different elements and their respective humans, called Personas. For more information, see this.
Trivia
Elementha obivously contains the word Element, which each Persona God has its own of.
Elementha is nowhere near Earth, but it is said that because Zero could "sense darkness from anywhere", and then sent the fastest Persona God, Charblace, one day to search for where a large quantity of dark energy was coming from, they accidentally found Earth, the source of the energy.
Elementha is considered to be one of the post-story production elements added to the Voidverse, even though Clemethai makes mention of Elementha (though not by name) at the end of The Colin Four Saga.

Ad blocker interference detected!
Wikia is a free-to-use site that makes money from advertising. We have a modified experience for viewers using ad blockers

Wikia is not accessible if you've made further modifications. Remove the custom ad blocker rule(s) and the page will load as expected.