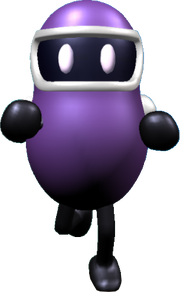 The Eggplant Men are metallic mask-wearing eggplants that first appeared in the NES title Wrecking Crew. An Eggplant Man first appears in the second stage, and acts as an obstacle for Mario and Luigi. They later appeared in Wrecking Crew '98, as a trophy in Super Smash Bros. Melee and as a cameo in WarioWare: Twisted!.
A member of the Eggplant Man species also appears in the Chibi-Robo! series under the name of Kid Eggplant. They also bare resemblance to Pit when under the effects of an Eggplant Wizard's spell.
Appearances
Super Smash Bros.: Going for Gold
Eggplant Man is an unlockable character from the Wrecking Crew series, a sub-series of Mario. The Wrecking Crew series also holds the returning stage from SSBWiiU, Wrecking Crew.
Gallery