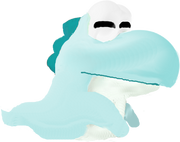 Eeries are undead creatures that seem to be a cross between a Yoshi, and a boo.
Appearances
Eeries appear in SMWWii, debuting their first 3D appearence.
Eeries reappear in Super Mario World 3D as common enemies in the courses Ghostly Haunt and Spooky Ghost House. They fly quietly around and does not directly attack Mario.
Gallery
Trivia
Ad blocker interference detected!
Wikia is a free-to-use site that makes money from advertising. We have a modified experience for viewers using ad blockers

Wikia is not accessible if you've made further modifications. Remove the custom ad blocker rule(s) and the page will load as expected.