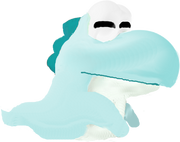 Eeries are undead creatures that seem to be a cross between a Yoshi, and a boo.
Appearances
Eeries appear in SMWWii, debuting their first 3D appearence.
Eeries reappear in Super Mario World 3D as common enemies in the courses Ghostly Haunt and Spooky Ghost House. They fly quietly around and does not directly attack Mario.
Gallery
Trivia