June 20th, 2011
Interviewer: How do you think the NIntendo NS will sell?
Usernamer2: I would hope good, but being part of Nintendo, we are already working on a new system!
Interviewer: Is it called the Current Generation Portable? Next Gen. Smartphone? A Rollercoster?
Usernamer2: Very Funny. It is called the Touch in America, the Ninto in PAL, and iDS in Japan!
Interviewer: So one of EVT's systems will be sold in Japan?
Usernamer2: Correct!
Interviewer: Are the cames sold on Nintendisks again?
Usernamer2: No, they are dowloadable via the app store lookalike, Plus-Shop!
Interviewer: Wow! So you can demo games loike WiiWare demos?
Usernamer2: Of course! VC returns, too!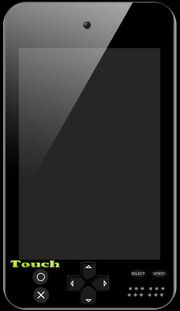 Interviewer: Do you got any game ideas?
Usernamer2: Of course! A sequal to WarioWare: Touched! and a new Tetris will be avalable at launch!
Interviewer: I gotta go!
Usernamer2: Bye!
June 30th, 2011
Usernamer2: WarioWare Touched 2 is canned for a while.
Interviewer: And what is taking it's place?
Usernamer2: SSB! Bye!
Ad blocker interference detected!
Wikia is a free-to-use site that makes money from advertising. We have a modified experience for viewers using ad blockers

Wikia is not accessible if you've made further modifications. Remove the custom ad blocker rule(s) and the page will load as expected.