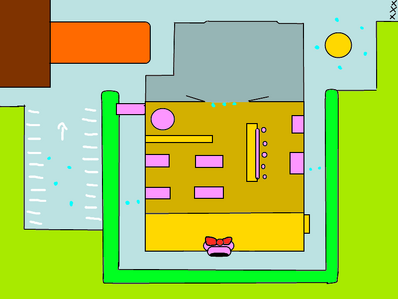 Drive-through is one of the six battle stages appearing in Mario Kart 9th. It is one of the smallest battle stages and is playable by default.
Layout
The drive-through is located at the side of the road, apparently close to the Coconut Mall. Next to the drive-through is a tank station and a parking lot. When on the parking lot you can go make a U-turn and enter the actual drive-through. At the end you arrive at a small part with a giant pillar in the middle with the snackbar's logo on it. You can drive on the step and enter the snackbar. There isn't much driving space as there are tables in it. Outside is also a tankstation you can drive under.
Design
It is a simple fast-food restaurant in a similar fashion to the Burger King and McDonalds. The tank station nearby is just like any other tank station. The side of the road always is blocked off by fences and many driving cars. You can see the Coconut Mall across the street. The order machine is a mechanical version of Birdo's Head and the fast-food reastaurant's logo also has Birdo on it. The parking lot has no cars and the inside has pink tables and the yellow parts are walls. The kitchen can't be entered.
Gallery
Ad blocker interference detected!
Wikia is a free-to-use site that makes money from advertising. We have a modified experience for viewers using ad blockers

Wikia is not accessible if you've made further modifications. Remove the custom ad blocker rule(s) and the page will load as expected.