Ad blocker interference detected!
Wikia is a free-to-use site that makes money from advertising. We have a modified experience for viewers using ad blockers

Wikia is not accessible if you've made further modifications. Remove the custom ad blocker rule(s) and the page will load as expected.
This article belongs to Transparent Interactive and the company's owner StarYoshi (t∣b∣c).
Please don't edit this page without permission unless you're fixing grammatical or spelling errors.
Thanks, enjoy the article!
The creator of this page does not speak English as a first language, so it may contain grammatical/spelling errors. As a reader, please feel free to make corrections as needed.
Dreamstation
Developer(s)
Console Type
Home console
Generation
8th generation
Release Date(s)
May 18, 2014
May 17, 2014
May 23, 2014
June 1, 2014
Units sold
107.015 (Discontinued)
Media
Dreamstation Disc
Successor
The Dreamstation is an 8th-generation video-game-console developed by DreamStar Corporation. The console has released on May 17 2014 in Europe, one day later in Japan, on May 23 2014 in North America and on June 1 2014 in Australia. All online services are discontinued since the Dreamstation Plus has been released.
Buttons
POWER-Button: Turn on and turn off the console.
WLAN-Button: Enable and Disable the WLAN feature.
RESET-Button: Reset the the console.
EJECT-Button: Eject the disc.
Games
Box Art
Name
Release Date(s)
Status
Other Console(s)/Platform(s)
Price(s)
& : October 30, 2014
: November 2, 2014
: November 14, 2014
Released


€ 39,99
$ 49,99
5500 ¥
Templates
Want to make a game for the Dreamstation? Ask me for permission and use this templates:
Controller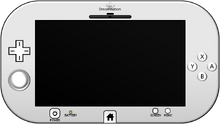 The Dreamstation has a tablet-linke-controller, called "Dreamstation ControlTab". It's look is inspired from the Wii U Gamepad. There are these buttons and pads:
A/B/X/Y-Buttons: For different actions.
L/R-Button: For different actions.
HOME-Button: Pauses the current game and shows the HOME-Menu.
POWER-Button: Turn on and turn off the console.
SCREEN-Button: Puts the screen shown on TV onto the ControlTab and reversed (if there are different screens).
MENU-Button: In games you can switch to the menu.
Control-Pad
Slide-Pad


Specs
| | |
| --- | --- |
| CPU | 2,8 GHz Intel Core i5-2300 |
| RAM | 4 GB DDR3 |
| GPU | AMD Radeon HD 6990 |
| Memory | 12 GB system storage, 75 GB free storage |
| Operating System | DreamOS |
| Resolution | 1080p Full HD |
| Framerate | 50 fps |
| External Ports | 1x HDMI out, 1x Multi-AV out, 1x SCART, 1x 80 W Power Supply, 2x USB 2.0 |