DragonSlayer
ドラゴンスレイヤー
Developer(s)
Publisher(s)
Release date
May 1, 2013
May 2, 2013
May 3, 2013
May 4, 2013
May 5, 2013
May 6, 2013

Genre
RPG
Mode(s)
1-Player
Rating(s)
Platform(s)
Playstation 3
Xbox 360
Wii
PC
Media
Playstation 3 Disc
Xbox 360 Disc
Wii Disc
PC Disc
"My honor is my life. My duty is my fate. My fear is to fail. My salvation is my reward. My craft is death. My pledge is eternal service"

—
Chant of the DragonSlayer.
DragonSlayer is an action role-playing open world video game developed by Arcane Inc. and published by Fantendo. It is the first installment in the DragonSlayer action role-playing video game series.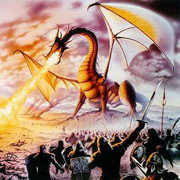 Long ago... The first humans wandered and migrated to the land of Hamel; a green, beautiful and clean country filled with necessary elements to sustain all life. As beautiful as it was, there were many dangers. Dragons were running amok in the peaceful landscape and thus, the Divines had sent their DragonSlayer to defend and destroy these monstrous beasts. For generations, this tradition has been passed down.
Many millennia later, Dragons have returned to the province of Hamel and the future of the land hangs in the balance. As the DragonSlayer, the prophesied hero, Thade, born with the power to wield a magic sword, is the only one who can stand amongst them.
With the holy sword forged by the divines, Thade, the DragonSlayer will cut through his foes and restore peace.
Overworld & Battle
Edit
Hamel is an open world where the player (as Thade) can explore and complete quests. Although, there are a fair amount of side quests to complete. Hamel geography consists of mountains, snowy tundras, pine forests, rural countrysides and arctic plains.
There are over 100 dungeons scattered across Hamel. Teleporting is a feature, allowing the player to instantly travel to any marked location that has been previously visited.
Enemies to the series include Giants, Trolls, Mammoths, Long-Legged Spiders, Wraiths, Centaurs, and Dragons. The game features non-hostile dragons, but they are quite rare and usually important to the storyline. Enemies will consist of different levels and are scattered randomly through Hamel, which will make the journey difficult to the player since he/she may accidentally run into an enemy higher than his/her level. Defeating enemies also adds experience points to the player, helping him/her level up.
Other provinces of Hamel, such as parts of High Hills and Redlog, as well as the majority of Eastin and Humming are also present in the game, albeit in a barren and inaccessible state (without the use of console commands). Hints pointing to this possibility include: The presence of an impassable gate in the southeast of Southrift that seemingly leads into the province of Humming, another gate southwest of Falker that would lead to Eastin and a half-modeled portion of the White Tower in what would be the Capital City.
Since the game is an RPG, the character can level up. Thade can level up from killing enemies, bosses, completing quests and side-quests only if he gains enough experience points. When leveling up, the player can upgrade the following...
Health - This indicates how much health Thade has. If it runs out, Thade will die. It will restore point by point overtime if Thade's health depletes.
Magic - This indicates Thade's magic meter. If it runs out, Thade can no longer cast spells. It will restore point by point overtime if Thade's magic depletes.
Stamina - This indicates Thade's stamina meter. If it runs out, Thade can no longer run or sprint. It will restore point by point overtime if Thade's stamina depletes.
Characters
Edit
Playable Character
Edit
| Image | Name | Biography | Skill |
| --- | --- | --- | --- |
| | Thade | The protagonist and chosen warrior born and destined to stop the evil Kěpàde, the evil lord of all dragons. With the power of the divines blessed upon him, Thade will cut through his foes as if they were wooden logs. | |
| Image | Name | Biography | Skill |
| --- | --- | --- | --- |
| | Kěpàde | He is the king of all dragons and desires to rule over humanity. Kěpàde will stop at nothing until victory is his and will terrorize all life to achieve it. | |
| | Drūh | Kěpàde's brother and is responsible for leading the dragon forces against mankind. He will defend his brother and will do anything for him. | |
| | Summoner Monk | It is said that these monks can actually roar and breath fire like the dragons do. They have recently summoned the dragonslayer to train him. | |
There a lot of enemies throughout the province of Hamel; they are sorted out on rarities and how often can the player find them during exploration or quests. Sometimes, the player might want to be careful: He/She may run into an enemy way out of his/her level. (A Giant, for instance)
| Image | Name | Description |
| --- | --- | --- |
| | Apple | It restores 5 points of your health. |
| | Banana | It restores 6 points of your health. |
| | Meat | It restores 9 points of your health. |
| | Soup | It restores 5 points of your stamina and health |
Main Article: Click here for full soundtrack
This is easily going to be one of the biggest RPG's on Fantendo.