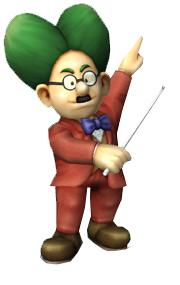 Dr. Wright is a major protagonist from the 1991 SNES title Sim City. While he doesn't appear in any other Sim titles, he does appear as an Assist Trophy in Super Smash Bros. Brawl and Super Smash Bros. for the Nintendo 3DS / Wii U. Despite originally appearing in the Sim City title, a series created by Maxis, Nintendo developed the title in which he debuted.
Appearances
Gallery
Ad blocker interference detected!
Wikia is a free-to-use site that makes money from advertising. We have a modified experience for viewers using ad blockers

Wikia is not accessible if you've made further modifications. Remove the custom ad blocker rule(s) and the page will load as expected.