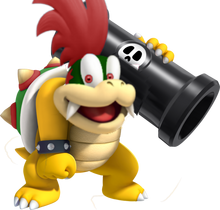 Doug Koopa is yet another biological son of Bowser, and Has close relations to Roy,for their love of cannons. He can prove to be a valuable foe when battling Mario, as he attempts to headbutt and fire his plasma cannons. It is simple to beat him, as the only thing you can do is jump on his head three times. Although he looks tough and hangs out with roy, he actually can be really sentimental and understand other's feelings.
Ad blocker interference detected!
Wikia is a free-to-use site that makes money from advertising. We have a modified experience for viewers using ad blockers

Wikia is not accessible if you've made further modifications. Remove the custom ad blocker rule(s) and the page will load as expected.