Donkey Kong 64 is an anime based on the Nintendo 64 video game of the same name. It was produced by well-known Madhouse Studios in Japan and ran for 27 episodes from July 1 until December 30, 2000 in the 5:30pm timeslot.
The series was first imported into the USA by FUNimation in early 2001 and ran on Fox Kids from February of that year until September of 2002. The series was very popular in Japan, USA, Canada, Poland, the UK, France, Germany, Israel, United Arab Emirates and in the rest of Asia (including the Phillippines, China, Hong Kong, Malaysia and Singapore). Unlike many anime shows at the time, the series was produced in a combination of traditional animation and computer animation

Episodes
Cranky's Lab! A Simian Slam? No Way!
Out in Jungle Japes! Get Diddy!
To Angry Aztec! Get Lanky and Tiny!
To the Factory! Get Chunky!
K. Rool! Get Ready for a Fight!
Humans on DK Island? Hostile or Friendly?
The Potion Recipe is Stolen! (Part 1 of 3)
The Potion Recipe is Near! (Part 2 of 3)
The Potion Recipe is Ours! (Last Part of 3)
A Balloon Island? Let's Go!
Dreams Do Come True! At Least for Diddy!
Goodbye K.Rool World
Cranky Falls Sick! HELP! (Part 1 of 4)
A Brave Kong Volunteers! (Part 2 of 4)
Diddy's Battle at Sea! Beware! (Part 3 of 4)
At Last! The Cure is Here! (Last Part of 4)
Fattening Bananas! Oh No!
A Rare Banana! Wow!
Dixie Comes to Call! What Will Tiny Do?
K. Lumsy Comes By!
Cranky's Retirement? For Real?
Lanky Using Barrel Blast? Ridiculous!
Troff and Scoff Trying Baboon Balloon? Unthinkable!
K. Rool Returns with a Vengeance (Part 1 of 4)
Time to Take Out the Potions Again! (Part 2 of 4)
The Big Plan (Part 3 of 4)
The Final Battle! (Last Part of 4) (Series Finale)

Voice Cast
Donkey Kong - Koichi Yamadera (Japanese) Ted Cole (English)
Diddy Kong - Megumi Hayashibara (Japanese) Stephanie Nadolny (English)
Lanky Kong - Mayumi Tanaka (Japanese) Edwin Neal (English)
Tiny Kong - Rei Sakuma (Japanese) Cathy Weseluck (English)
Chunky Kong - Kazuhiko Inoue (Japanese) David Kaye (English)
Dixie Kong - Noriko Hidaka (Japanese) Monika Antonelli (English)
Cranky Kong - Kenichi Ogata (Japanese) Wayne Robson (English)
Candy Kong - Noriko Hidaka (Japanese) Teryl Rothery (English)
Funky Kong - Sukekiyo Kameyama (Japanese) Paul Dobson (English)
King K. Rool - Hazime Ozeki (Japanese) Dan Haggerty (English)
Wrinkly Kong - Midori Kato (Japanese) Kathleen Barr (English)
K. Lumsy - Ichiro Nagai (Japanese) Christopher R. Sabat (English)
Krushas - Kaneta Kimotsuki (Japanese) David Kaye (English)
Kritters - Toru Furuya (Japanese) Wayne Robson (English)
Gnawties - Shigeru Chiba (Japanese) Paul Dobson (English)
Broadcasting
USA: Fox Kids (February 2001-September 2002), Jetix (January 2005-December 2008), Disney XD (April 2011-)
Canada: CTV (January 2001- October 2004), Télétoon Quebec (June 2009-), YTV (March 2011-)
UK: BBC (May 2001-October 2001, March 2005-), Fox Kids/Jetix (June 2001-May 2003, November 2004-September 2008)
Ireland: RTE (May 2001-October 2001), Jetix/Disney XD (March 2005-)
Germany: ZDF (2001-2002), KI.KA (2005-2007, 2011-)
Australia: ABC (2001-)
Japan: Fuji TV (2000, 2009-2010, 2011-), Kids Station (2006-present)
Israel: IBA (2002-)
Italy: RAI (2002, 2011-)
Sweden: SVT (2001-2002), Disney XD (2011-)
Denmark: TV2 (2002, 2009-)
Netherlands: Kindernet (2001) Nickelodeon (2011-)
Belgium: Ketnet (2001-2002, 2011-)
France: TF1 (2001), Jetix (2005-2006), FR3 (2008), Disney XD (2011-), Télétoon (2011-)
Phillippines: ABS-CBN (2002), Cartoon Network (2009-)
Hong Kong: TVB (2002, 2011-)
Malaysia: RTM (2004-2005, 2011-)
Poland: TVP & Fox Kids (2001) Fox Kids Play/Jetix Play (2005, 2007-2008) Disney XD (2011-)
DVD distributors
USA: FUNimation Entertainment (2001-)
Canada: BMG Video (2001-2002) FUNimation Entertainment (2005-2009) (KFC) E1 Entertainment (2009)
UK/Ireland: 20th Century Fox Home Entertainment (2001-2002) Maximum Entertainment/Fox Kids/Jetix Best Sellers (2004-2005, 2009)
Germany: BMG Video/UFA Video (2001) Universum Film (2005-2006, 2011)
Australia: Roadshow Entertainment (2002-)
Japan: Pony Canyon (2000-present) Warner Home Video (2010)
Italy: Mondo TV/MHE Ideal Entertainment (2002, 2011)
Sweden: Egmont (2002), Nordisk Film (2011)
Denmark: Egmont (2002), Nordisk Film (2011)
Netherlands: BMG Video (2002), E1 Entertainment Benelux (2011)
Belgium: Universal Studios Benelux (2002) E1 Entertainment Benelux (2011)
France: TF1 Vidéo (2002) Seven 7 (2011)
Poland: ITI Home Video (2001-2002, 2009-)
Merchandising and reception
Since its debut in 2000, the series became extremely popular in various countries. In Japan, the series spawned a trading card game manufactured by Takara, collectible figurines from Tomy, and tie-in promotions with chains Lotteria, McDonald's and Burger King Japan. Matell also released an Uno card game for the holiday season of 2000.
The series was one of Fuji TV's top rated programs (despite having only 27 episodes) of 2000. The series was especially popular with young children and pre-teens (mostly between 4-9 years old); due to the show's small number of episodes, Madhouse Studios made up for it by producing several OVA's containing four episodes per tape, each with a different plot. However, an OVA was released in July 2001 that ran 88 minutes in length.
The series had also enjoyed success in Europe, North America and the rest of Asia. In the USA and Canada, Bandai manufactured a series of toys as well as a Kids' Meal tie-in promotion with Burger King. In Europe, the series is still rerun in various countries, mostly on Disney XD or public broadcasters of the region.
Movie
A movie based on the series was released on March 10, 2001 entitled Donkey Kong 64: K. Rool's Revenge! which continued where the final story arc left off. The film became one of the highest grossing Japanese films of 2001, competing with Doraemon the Movie 2001. The VHS and DVD was released on July 18, 2001.
Video releases
Between December 2000 and January 2001, Pony Canyon released the entire series on VHS. Story arcs covering multiple episodes were released on a single VHS as if to make up a movie. A total of 350,697,00 units were sold in Japan as of 2011.
After petitions from fans, the series was released in a complete DVD box set in Japan on July 14, 2010 by Warner Home Video & Pony Canyon.
In the UK, the series was released on video by 20th Century Fox Home Entertainment through CBS-FOX Video and Fox Kids Video. The series was eventually released on DVD between December 2004 and March 2005 by Maximum Entertainment under the Fox Kids (later Jetix) Best Sellers line. The series was re-issued on October 6, 2009 by E1 Entertainment UK and Canada on both DVD and Blu-ray formats again thr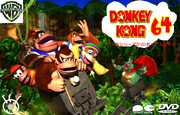 ough the Best Sellers line.
In the USA, the series was released on video by FUNimation Productions. In April 2005, November 2007 and June 2009, limited edition DVD's of some episodes were released at KFC restaurants in Canada. They each contained a certain number of episodes (two were spotted with the first and third story arcs) and a few trailers for other programs released by FUNimation Entertainment as well as trivia games and some activities. They could be purchased for $2.50 each with the purchase of a KFC Bucket, Popcorn Chicken or Chicken Strips Combo or 2-Bite Brownies.
Music
The music for the TV program was composed by Shigeaki Saegusa and released in a soundtrack CD on November 15 2000 by BMG Japan, selling 5 million units in its second week.
When Saban and FUNimation acquired English dub rights to the program, newer music by Shuki Levy, famed Polish musician Seweryn Krajewski and Haim Saban was produced, some music previously composed by the duo had also been reused. The music was released on a CD by BMG Records in March of 2001.
The TV series was very popular in Poland due to its music by Seweryn Krajewski, the theme songs (OP & ED) for the Polish version were "ABC Przydogy" and "UFO jest krasnalem naszych dni" respectively, and "Dyskoteka pana Jacka" was frequently featured on the program in said version. The series' soundtrack was eventually released on CD on April 9, 2002 by Polton Records in Poland and sold billions of units by August 2004.
A CD set was released in the UK by Polydor Records in 2010 that contained the original Japanese score, the Saban-FUNimation music and the Seweryn Krajewski songs, each CD priced at £8. It is available for purchase from Amazon.co.uk and can be purchased outside of the UK on that site.
Ad blocker interference detected!
Wikia is a free-to-use site that makes money from advertising. We have a modified experience for viewers using ad blockers

Wikia is not accessible if you've made further modifications. Remove the custom ad blocker rule(s) and the page will load as expected.