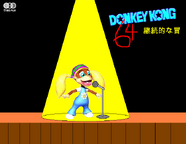 is a 2011 anime series that was produced as a follow-up to the original Donkey Kong 64. Madhouse Studios produced the series again in traditional animation this time and many of the original voice actors reprised their roles.
Donkey Kong 64: Continuing Adventures
Fuji TV and BS Fuji broadcast the anime from April 2 until June 25 (during a time when Japan was recovering from the 2011 earthquake) for 13 episodes.
Unusually, the anime features popular English-language songs (as well as the Spanish song "La Bamba") including the likes of Madonna, Roy Orbison, Go West, David Bowie, VideoKids and other musicians/bands.
The series will be dubbed into English late 2011.
Premise
The series, which picks up where the Donkey Kong 64 anime film left off, has a new premise in which Cranky Kong and King K. Rool signed a peace treaty and both groups live in peace. At times, however, there may be predicaments linked to the Kremlings.
Episodes
List coming soon!
DVD release
The entire series DVD set will be released on July 6, 2011 by Pony Canyon.
Broadcasters
Japan: Fuji TV (2011), TV Tokyo (2016-)
USA: CBS (Cookie Jar TV) (TBA), NBC (2012-)
Canada: CBC (TBA), Treehouse TV (2012-2014), YTV (2013-)
UK: BBC (TBA)
Mexico: Once TV (2017-?), Canal 5 Televisa (TBA)
Spain: Clan TVE (2014-?)
Chile: TVN (TBA)
Latin America: Boomerang (TBA)
India: Hungama TV (2021-Coming Soon), Disney Channel (2012-?)
More broadcasters coming soon... Saty tunned for EXPANDING THE DONG!!!!