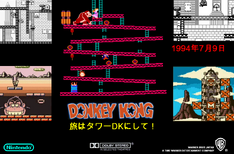 Donkey Kong: Journey to DK Tower! is a 1994 anime film produced by Studio Pierrot (a well-known anime studio) and distributed by Warner Bros in Japan. The movie was directed by Noriyuki Abe, who directed the anime adaptation of YuYu Hakusho. The film was also released in English language in Europe, but had little exposure in North America. The film was also produced to promote the popular Game Boy version of Donkey Kong released the same year. The movie runs 68 minutes in length. The film was released in Japan on July 9, 1994
Cast
Mario - Charles Martinet
Narrator - Toru Furuya
Pauline, Gokai Yellow, Gokai Pink - Megumi Hayashibara
Donkey Kong - Kosei Tomita
Donkey Kong Jr. - Mayumi Tanaka

Reception
In Japan, DK was in second place at the box office and eventually fell to third place after The Lion King was released in Japan. Reviews of the film were positive, mostly praising the film's animation quality, decent storytelling and slight differences from the original game. The film grossed billions of yen in total by the spring of 1995.
Music
The film's score was composed by Koji Kondo, who had composed score for other Nintendo games. The soundtrack was released on CD by Toshiba EMI on July 13, 1994 and sold billions of units by late-1996.
Ad blocker interference detected!
Wikia is a free-to-use site that makes money from advertising. We have a modified experience for viewers using ad blockers

Wikia is not accessible if you've made further modifications. Remove the custom ad blocker rule(s) and the page will load as expected.