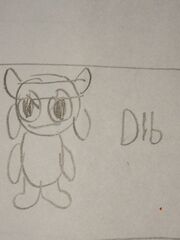 Dib is a white, grumpy devil who helps both
Skip and Sqak
in the first game. He hates Zombie Ants, Coco Birds, and Rock and Roll Music.
Skip and Sqak
When Skip and Sqak die for the first time, they both wake up in the Underworld, where Dib first appears welcoming them by using a megaphone. When Dib finds out what they are, he states that "Blue Frogs and Red birds" get as much lives with Heart Fruits, and leaves for his "chicken duty".
Dib does not appear again until Spooky Swamp, where he is next seen trying to catch Coco Birds (which is a cross between a parrot and chicken). When Skip and Sqak came to the swamp, Dib gives Skip the Explosive Bubble Upgrade, and Sqak the Fire Cracker move to kill the Zombie Ants up ahead. He appears at the end of the Graveyard, opening the door for the duo to their next level.
Dib is later seen in Sunny Villa In Peril level locked in a cage along with his friends; after being freed by Skip and Sqak, Dib is last seen cheering for their success of defeating Emperor Drek.
In the 100% ending, Dib is seen eating a carrot cake at the big dinner.
Trivia
Dib was grumpier than he was in the sequel and the anime series, but some episodes show him grumpy as he was at the first game.
If the player goes to Great Pond to Spooky Swamp without even dying once, Dib will still appear and strangely, he'll act like Skip and Sqak had encountered him before. It could be possible that time could be fluid at the Underworld, or he may have noticed the two coming out of the tunnel.
Dib was originally going to be a grim reaper. But instead he became a devil for an unknown reason.
Dib sorta resembles Ren Hoek from Ren and Stimpy.
Ad blocker interference detected!
Wikia is a free-to-use site that makes money from advertising. We have a modified experience for viewers using ad blockers

Wikia is not accessible if you've made further modifications. Remove the custom ad blocker rule(s) and the page will load as expected.