Ad blocker interference detected!
Wikia is a free-to-use site that makes money from advertising. We have a modified experience for viewers using ad blockers

Wikia is not accessible if you've made further modifications. Remove the custom ad blocker rule(s) and the page will load as expected.
Dead Galaxy
Developer(s)
Pencil Games, Inc.
Publisher(s)
Electronic Arts
Director(s)
Pete Dickson
Jonathan Nolan
Platform(s)
Microsoft Windows
PlayStation
Xbox One
Genre(s)
First-person shooter, survival horror
Release Date(s)
Cancelled
Mode(s)
Single-player
Dead Galaxy is a cancelled survival horror first-person shooter video game that under development at Pencil Games, Inc. and to be published by Electronic Arts for Microsoft Windows, PlayStation 4, and Xbox One. Directed by Pete Dickson along with Jonathan Nolan, it was to be the fifth main instalment in the Dead Space series, serving as a sequel to Dead Space 3 and a prequel to Dead Space 4.
Pencil Games, Inc. was offered to develop the next Dead Space instalment in March 2013. Dickson and Nolan were brought onto the project in July 2013 by Electronic Arts and Pencil Games, Inc.; the game was announced in August 2016 via P.H.T., short for Playable Horror Teaser, a critically acclaimed demo that was released as a free download from the PlayStation Store and Xbox Market. P.H.T. revealed the involvement of Dickson, and Nolan, along with Angela Sarafyan as the voice and appearance of its protagonist.
The game's development was questioned due to rumors surrounding Pencil's work with the completion of Syndicates, and their eventual exit from EA. In April 2015, reports surfaced from Nolan that Dead Galaxy had been cancelled, with Electronic Arts officially confirming the cancellation shortly after, a move which was negatively received by critics and fans of the franchise.
Development
In March 2013, Electronic Arts' president asked Pencil Games, Inc. to develop the next Dead Space installment. They accepted the offer with enthusiasm, and development began shortly thereafter, using EA DICE's Frostbite 3 engine.
In July 2013, EA and Pencil asked Pete Dickson to direct the next Dead Space game, which he accepted the offer as he was a fan of the Dead Space series.
When asked about the project, Dickson stated:
P.H.T.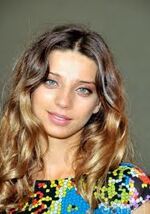 An interactive teaser for Dead Galaxy was released on August 12, 2016 as P.H.T. (Playable Horror Teaser), marketed as a demo for a horror game by the non-existent Zero Candle.[1][2] Published on the PlayStation Network for the PlayStation 4 and Xbox Market for the Xbox One as a free download,[3][4] P.H.T. uses a first-person perspective, in contrast to the usual third-person perspective often found in the Dead Space series, and centers on an unknown protagonist who awakens in a supposedly haunted space station and experiences supernatural occurrences; the game doesn't have a heads-up display and all information is relayed to the player via holographic projections from the protagonist's Resource Integration Gear (RIG) spacesuit and the weapons themselves.[2][5] After the player solves the final puzzle, a trailer reveals that it is a "playable horror teaser" for a new Dead Space title being directed by Pete Dickson and Jonathan Nolan, with the protagonist portrayed by Angela Sarafyan.[6] On 18 September 2016, Sony and Microsoft revealed during the pre-Tokyo Game Show press conference that P.H.T. had been downloaded over a million times.[3]
Initial reception P.H.T. was critically positive, with particular praise for the visuals, jump scarring moments, thematic elements, and puzzle solving.
Cancellation
References