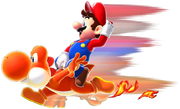 Dash Yoshi
is a temporary form of
Yoshi
triggered by eating the
Dash Pepper
power-up
. It first appeared in
Super Mario Galaxy 2
.
There is a Dash Yoshi named Rossy, who is part of the Yoshi Bandits in Mario & Luigi: Brothers in Arms.
Effect
Yoshi becomes orange-red, and starts running unstoppably. He can dash across water and up walls, and jumps farther than usual.
Appearances
Dash Yoshi appears in
Super Mario Star Journey
. In
Stonecarving Valley
, in the Mission
Pepper Dasherator
, Yoshi needs to eat Dash Peppers to walk on walls. This is needed to get a
Power Star
on a ceiling. In
Polar Volcano
's mission,
Burn the Whole Place
(which could only be done by
Toad
), Dash Yoshi is needed as well to reach a switch, which makes Polar Volcano fiery again, in order to reach the Power Star.
Ad blocker interference detected!
Wikia is a free-to-use site that makes money from advertising. We have a modified experience for viewers using ad blockers

Wikia is not accessible if you've made further modifications. Remove the custom ad blocker rule(s) and the page will load as expected.